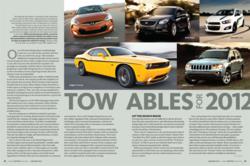 Family Motor Coaching's annual "Towables" guide takes the guesswork out of finding a vehicle that can be towed four wheels down. It offers valuable advice ...
Cincinnati, OH (PRWEB) January 27, 2012
With springtime approaching, many motorhome travelers will begin preparing for the 2012 travel season. Family Motor Coach Association (FMCA), an international organization for motorhome owners, realizes that destination planning and prepping the motorhome will be high-priority tasks.
But it's also a time of year when scores of owners begin to look for a new towed vehicle to pull behind the motorhome during their travels.
While the motorhome itself is a self-contained rolling residence, once the campsite is reached and the transition from mobile machine to cozy home is completed, many prefer not to have to convert it back to a means of transportation. That's why many motorhome travelers desire to have an additional vehicle available for sight-seeing excursions, trips to the market, or visits to congested metropolitan areas.
While some folks employ a trailer or tow dolly to bring along their secondary vehicle, the favored method for most motorhome owners is four-wheels-down towing.
The need for a second vehicle that can be flat-towed is the reason Family Motor Coaching magazine, the official publication of FMCA, began producing its annual "Towables" guides in 1999.
Prior to that time, motorhome owners had little or no direction when it came to finding an automobile that could be flat-towed behind a motorhome. Determining which vehicles could be towed was seldom a clear-cut process, as information was difficult to find, confusing to understand, and, oftentimes, contradictory from one source to the next.
Family Motor Coaching's annual "Towables" guide takes the guesswork out of finding a vehicle that can be towed four wheels down. It offers valuable advice to motorhome owners regarding vehicle selection, making sure it is outfitted with the proper towing equipment, and how to safely tow it.
The "Towables For 2012" guide is available to FMCA members and Family Motor Coaching magazine subscribers. It can be found in the January 2012 issue of Family Motor Coaching and online at http://www.FMCmagazine.com/motor-home-towing-guides. The guide includes 137 model-year 2012 vehicles from 21 different manufacturers that have been approved to be towed four wheels down behind a motorhome.
The main chart lists vehicles — by manufacturer — that have been approved for recreational towing. The chart also includes pertinent information for each towable automobile, such as the type of transmission (automatic or manual) that the vehicle must be equipped with so that it can be towed; the drive configuration (front-wheel drive, four-wheel drive, all-wheel drive); whether any speed restrictions or distance limitations are involved when the vehicle is being towed; and the approximate curb weight and length for the base model of the vehicle.
Addendums let potential buyers know whether fuses must be pulled before a vehicle can be towed to prevent battery drain; denote special instructions for running the vehicle for a certain time period before, during, or after it is towed; and specify transfer case options that may prohibit a vehicle from being towed.
The "Towables For 2012" guide provides motorhome owners with a wide selection of vehicle types to choose from when making their decision. From the economical Smart Fortwo Passion Coupe to the ultra-luxurious Cadillac Escalade Hybrid, there is an automobile, sport utility vehicle, or pickup truck to suit any need or style.
For motorhome owners who are in the market to purchase a new towed vehicle, the "Towables For 2012" guide provides the necessary information to help them get the decision process started. And for those who are looking at a preowned vehicle, towable guides from previous years are available to FMCA members at http://www.FMCmagazine.com/motor-home-towing-guides.
For just $50 the first year and $40 per year after that, FMCA members receive a subscription to Family Motor Coaching plus access to previous issues of the magazine online; a variety of travel services such as mail forwarding and free trip routing; a group rate on Coach-Net emergency road service; fuel discounts at Pilot Flying J; access to FMCA Connections partners for special offers on campgrounds, tires, tours, and cell phone service; national and regional events with exhibits, educational seminars, and entertainment; more than 500 geographical and special-interest chapters to join; and much more.
For more information about FMCA or to join the organization, which will celebrate its 50th anniversary in 2013, contact the Membership Services Department at (800) 543-3622 or visit http://www.FMCA.com.
About Family Motor Coach Association • Enhancing The Motorhome Lifestyle
Family Motor Coach Association (FMCA) is an international organization for families who own and enjoy the use of self-contained, motorized recreation vehicles known as motorhomes. The association maintains its national headquarters in Cincinnati, Ohio, and currently has nearly 90,000 active member families. FMCA offers its members a number of benefits, including a subscription to its monthly magazine, Family Motor Coaching; trip routing; mail forwarding; and group rates on an emergency roadside assistance program. Perhaps the most important benefit of FMCA membership is the camaraderie and friendships that develop among people enjoying the common interest of motorhome travel and recreation.
###