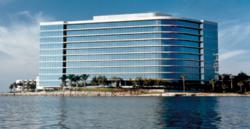 ...it positions the IPA Family team nationwide to continue its commitment to invest in the organic growth of our unmatched high road culture!
Tampa, FL (PRWEB) March 16, 2012
Independent Producers of America, LLC (IPA), a member of the IHC Group of companies, announced today that due to their continued achievement of organizational growth and a renewed strategy for aggressive marketplace expansion nationwide, they have committed, as well as, executed a multi-year agreement to relocate their national headquarters to 2502 N. Rocky Point Drive in Tampa, Florida. IPA President and Chief Operating Officer, David Keeler, commented "we are extremely excited about the fresh direction of this path we have chosen and candidly believe it positions the IPA Family team nationwide to continue its commitment to invest in the organic growth of our unmatched high road culture. We believe the significance of our collective history is in our future, not our past".
Prior to the IPA that is present today, the organization that began its humble roots back in 2005 as a privately held company, launched with a few dedicated folks, limited marketplace offerings, and an undercapitalized vision for long term success. In April of 2008, majority interest of the current IPA was purchased and became a part of The IHC Group. This sole event provided IPA with the strength, vision, and stability that it employs today to logistically position itself as a noteworthy contributor to all of the shareholders and stakeholders it serves. IPA has been on a relentless pursuit since that time that continues on today, to the enrichment of all of its infrastructures, enhancement of its leadership, explosive expansion of its product offerings, and many, many other areas of advanced performance excellence. Keeler continued his comments with…. "Without question our new headquarters and home is grounded in a very energizing and inspirational spot here in Tampa Bay that very few folks ever get to experience so, for that we are all blessed and very grateful but, more importantly it is the daily focus that we will be able to place on the success and growth of others nationally in it that is the prevailing advantage for all current and future members of the IPA Family!"
IPA is a proven industry leader in the training and development of the individuals and families it serves coast to coast. Through their new facilities, they have initially dedicated over 1,000 square feet to their onsite "THRIVE" leadership and development center. In addition to the ongoing onsite local events that will be occurring, this multipurpose hub will host webcast trainings, national meetings, team expansion presentations, and spousal events to name just a few. In addition, in the coming days, weeks, and months, IPA will be sharing specific information about many of their new initiatives that are underway and currently in the implementation process. These include but are not limited to:

Daily pay program
Sizable investment into a strategic partnership to continue growth of our talent communities
Increased new product offerings
New market expansion and leadership opportunities
Many, many more!
To discover more about the IPA Family, its career and leadership opportunities, it marketplace solutions, as well as its performance based culture, please visit us at http://www.ipafamily.com
About Independent Producers of America, LLC (IPA)
Independent Producers of America is a national marketing organization that distributes major medical insurance plans and other health insurance plans and consumer benefit membership programs across the nation. IPA's trained professional sales associates, referred to as the "IPA Family," provides information and a product portfolio that can meet the needs of most small business owners and self-employed individuals and families. Headquartered in Tampa, Fl., IPA is accredited and has an excellent reputation with the Better Business Bureau (bbb.org) and is a member company of The IHC Group.
We encourage you to visit us on the following social media sites:
Facebook: Simply search Independent Producers of America, LLC (IPA), IPA Family, and IPA Wisdom.
YouTube: TheIPAFamily and IPAWisdom
Twitter: Subscribe to us @IPA_Family and @IPAWisdom
Share – Independent Producers of America, LLC and IPA Family: