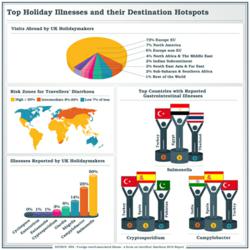 Our key advice relates to food as this is the main source of gastro illnesses eg Salmonella
Manchester, United Kingdom (PRWEB UK) 13 May 2012
Britons planning to jet off abroad on their summer holidays should be aware of the parts of the world where they're more likely to get ill – and take sensible precautions when travelling to high risk areas.
The infographic reveals that the top holiday destination for a holiday travel bug is Egypt, with illness in Turkey, or Thailand also being a health hotspot for holidaymakers falling ill with the food poisoning bug salmonella. While Spain, Turkey and Pakistan are the worst countries for cases of the water-borne infection cryptosporidium, linked to poor hygiene in swimming pools. Food poisoning bug campylobacter is most likely to strike those holidaying in India, Spain and Turkey, say Simpson Millar's holiday claims experts.
Nick Harris, head of international travel law at Simpson Millar, which has represented thousands of holidaymakers who have fallen ill while abroad, says: "It pays to do a little research before you go abroad and it's useful to know that there are certain countries and parts of the world where the risks are greater when it comes to getting ill. We hope this infographic to the world's gastrointestinal illness high risk areas will be of some help to people."
Nick Harris also comments: "Of course, we're not suggesting people shouldn't go to these places. But there are some sensible precautions you can take and some simple dos and don'ts which you can follow to reduce the risk of getting ill if you do travel to high risk countries. Our key advice relates to food as this is the main source of gastrointestinal illnesses such as salmonella. It's important to avoid food which hasn't been cooked properly or served in a hygienic way. Stick to food which is piping hot and also take care with hand and food hygiene."
That's the advice from Manchester-based travel law specialists Simpson Millar LLP Solicitors which has compiled a useful infographic on the world's tummy trouble hotspots.
The full guide and holiday illness hotspots infographic are available on our website. It also reveals the areas of the world where people are most likely to fall ill. Central and South America, Africa, the Middle East and South Asia are the high risk zones where there's a 20% chance of getting struck down with diarrhoea while on holiday. Areas where there's an intermediate (8-20% risk) include Southern Europe and Northern Asia. Northern Europe, North America, Japan and Australia and New Zealand are the places where holidaymakers are least likely to fall ill.
Salmonella remains the biggest cause of illness among Briton's travelling abroad, accounting for 50% of holiday illness cases. Campylobacter is the second most common reason for tourists to fall ill, with one in four cases attributed to the bacteria.
Holidaymakers who think they may have been a victim of food poisoning or any other illness whilst on a package holiday abroad which was believed to be caused by negligence on the part of their tour operator or accommodation provider should contact Simpson Millar's Travel Law Team on 0808 145 1353 today to find out if they can help you.
Simpson Millar LLP is a national law firm with 10 offices throughout England and Wales. We have been established for over 150 years and are accredited with quality standards such as Investors in People, Lexcel and Diversity in Business. Our Holiday Claims team have over 30 years combined experience in the travel industry and have helped many clients claim compensation for ruined holidays abroad.