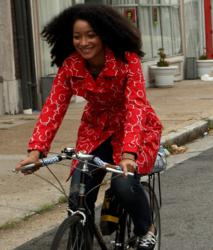 Traditional bike culture can be very intimidating. It's often male dominated and about road bikes and going fast... not about having options and being comfortable."
Memphis, TN (PRWEB) November 14, 2012
As global warming and super storms make headlines, gas prices soar, and the concern for obesity escalates, a growing number of people are responding by incorporating bike commuting into their daily lifestyle. Nicole Heckman, President and Founder of Urban Spoke seeks to support this growing movement with cyclist-designed products and accessories that help women look and feel their best on their bike.
To celebrate the Urban Spoke grand opening, customers can choose 15% off their purchase or to have the savings donated to WE Bike NYC for their efforts to support female cyclists in NYC post Hurricane Sandy.
Heckman began her cycling hobby with group rides before eventually venturing out alone for her 30-mile round-trip office commute. She and her husband also travel to urban and bike-friendly US cities and then use their bikes to get around. In this way, they avoid the rental car, the expensive and difficult parking, exorbitant gas prices and stressful traffic. Site seeing via bicycle offers them the flexibility to enjoy the experience on their timetable and without the aggravation of driving.
Heckman realized that bike commuting would be far more enjoyable if there was a way to have everything you needed for the day, as well as for unexpected stops. "My husband and I were biking in Chicago and happened upon an outdoor concert at Grant Park. Being music lovers and enjoying the waterside setting, we stopped to take in the event." Heckman began to imagine what it might be like to have all the perfect accouterments for an impulsive stop. Wine, cheese, blanket, and maybe even an outfit that was stylish but functional for biking. "Anything besides my unflattering bike shorts!"
Heckman began her mission to solve for the growing population of women cyclists who felt the same way. Especially women who might want to start cycling but were hesitant to try. "Traditional bike culture can be very intimidating. It's often male dominated and about road bikes and going fast…not about having options and being comfortable" says Heckman. Research and multiple store visits revealed a lack of variety and a sparse assortment for the urban female cyclist. Heckman launched urban-spoke.com to create a one-stop-shop, desperately needed for a very underserved and growing market. She carefully selected an assortment of fashion-functional, practical and effortlessly tote-able products that would make daily riding easier and more enjoyable.
"The biggest compliment I received during the urban-spoke.com pilot test was from a group of women who now want to take up cycling because Urban Spoke products help conquer the hurdles that new and veteran cyclists face." Heckman continues to source products that are made by independent designers who also have a passion for cycling. The site offers many categories of products, in wonderful colors and all sizes as well as the accessories needed for safety and inclement weather.
ABOUT US: Urban Spoke was born out of wanting to empower women to look and feel their best on and off their bike. Biking as part of an everyday lifestyle is healthy, economical, and fun when you have the right accessories and mindset. There's almost no trip you can't tackle!
Our partners are the best in their field - cyclists who develop their products through their own rigorous field-testing. We pride ourselves on working with smaller, up and coming designers wherever possible and value the workmanship of handcrafted items. We delight in offering unique upcycled products and prefer to work with companies that value sustainability and use eco-friendly materials. We source as locally as possible, but also realize that some of the very best cycling related products come out of Europe, where biking as transportation has been the norm for decades(dot)inquiries(at)urban-spoke(dot)com.