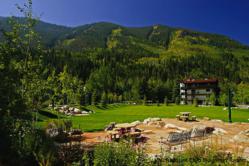 East, Vail CO (PRWEB) May 28, 2012
In February 2012, Wendy Martin joined the Vail Racquet Club Mountain Resort as the new Director of Sales and Marketing. Wendy comes most recently from the Chicago area where she was the Marketing Manager of 2 resort properties in Lake Geneva Wisconsin as well as a Holiday Inn in Chicagoland. Prior to this Wendy and her family lived here in the Vail Valley. Having worked at both The Resort Company and Spark Creative, Wendy comes with a wealth of knowledge in sales, marketing and advertising.
"I believe our upcoming seasons will show marked growth at the Resort not just because of the new marketing efforts but because our new name is much more representative of our property," Wendy quoted. "In all the years I lived here I never knew a property like this existed in the Vail Valley. The sheer size of the property, with plenty of natural beauty still intact it's a true taste of Colorado! My family and I have been fortunate enough to live here on the property while waiting for our house. Our children are never at a loss of things to do, the amenities are expansive and just exploring the grounds can take them half the day. It truly is a diamond in the rough and I'm extremely excited to be part of the team."
The Vail Racquet Club Mountain Resort is located on over 20 acres, the only Vail Valley property of its kind. Lodging consists of 1-3 bedroom gold rated condos and 3 bedroom town homes. Most resort amenities are free to guests including fitness classes such as yoga, Pilates and spin from the expansive fitness center, tennis on one of the 9 tennis courts, half court basketball, year round heated pool, hot tubs, sauna and steam rooms and even parking! This facility if a favorite for Vail destination weddings! Brides enjoy their special day without competition at the resort and guests love the well-appointed accommodations. The on-site restaurant, Alpine Tavern, caters to events at the Vail Racquet Club Mountain Resort by offering a creative International menu.
To make a reservation at the Vail Racquet Club Mountain Resort visit http://www.vailracquetclub.com or call 800-428-4840.