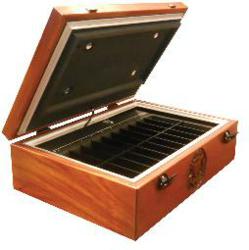 More than a million phones worldwide have already been compromised.
Arlington, VA (PRWEB) September 04, 2012
The United States Patent and Trademark Office has awarded Vector Technologies, LLC patent number 8203850 for an Anti-Eavesdropping Device, i.e. Portable Electronic Device (PED) Countermeasures Box. Vector Technologies' product has already been purchased by various government agencies, including key defense agencies, defense contractors and the White House as a solution to the growing number of PEDs in the workplace and the grave technical espionage threat that PEDs pose to classified and sensitive information.
The threat is growing and it applies to corporate America as well as to the US government.
As the National Security Agency (NSA) has stated in its "You Brought the Bug" briefings, anyone carrying a PED, such as a cell phone, is also unknowingly carrying an eavesdropping device. Unfortunately, the microphones and cameras built into many PEDs can be remotely activated without the users' knowledge or consent. Vector Technologies knows that most people fail to remember that PEDs, such as smart phones, are in fact small and powerful computers that can be hacked or compromised. Technology experts expect breached, infiltrated or otherwise compromised cell phones to be the scourge of 2012. The smart phone security company Lookout Inc. estimates that more than a million phones worldwide have already been compromised. In 2010, it is estimated that Forbes 1000 companies suffered more than a $100 billion in losses; in 1999, that number was estimated at $45 billion. Obviously, the threat of state-sponsored and corporate espionage is alive and well. But now technical espionage can be carried out remotely and silently via compromised PEDs like smart phones. BYOD (Bring Your Own Device) is becoming a hot topic for security experts and while program compatibility and network security are of fundamental concern, the technical espionage threat of PEDs in highly sensitive areas (classified command centers and office spaces, board rooms, high level corporate offices, financial centers, etc.) is another concern that should not be overlooked. For its part, the U.S. government has taken this technical espionage threat very seriously, publishing a number of warnings and policies that recognize this threat. Vector Technologies has listed a few policies:
IC Tech Spec-for ICD/ICS 705, Technical Specifications for Construction and Management of Sensitive Compartmented Information Facilities
DoD PED Policy
NSTISSAM TEMPEST 2/95A, Red/Black Installation Guidance
However, security policies have not completely caught up with the modern office environment where PEDs are ubiquitous. In addition, many government organizations do NOT have the political will to enforce a "NO PED" policy. In fact, some agencies are rushing headlong into the BYOD national security nightmare. So, what exactly are you supposed to do with your personal or government/business smart phone when you get to work? Simply turning off the device may not be possible if your device has been compromised, since it may only APPEAR to be off while it is in fact recording audio and video. Furthermore, it is not always possible to remove the battery on some modern PEDs. In response to this dilemma, NSA recommends acoustic and radio frequency (RF) shielding for any PED that is introduced into a classified or sensitive work environment.
Vector Technologies, LLC Patented PED Countermeasures Boxes
Vector Technologies completely agrees with NSA's recommendations and has produced the only proven and patented countermeasures storage solution for securing cell phones and other mobile devices that are introduced into classified or corporate office environments. Vector Technologies PED Countermeasures Boxes provide RF shielding, passive and active sound masking and built in charging for stored PEDs. The Vector family of products has been tested by independent third-party laboratories to verify that all technical espionage threats posed by PEDs are defeated when the PEDs are securely stored in our countermeasures boxes. In fact, DIA has approved Vector's boxes for use in DoD SCIFs.
About Vector Technologies, LLC
Since 2003, Vector Technologies has provided best in class Technical Surveillance Countermeasures (TSCM) services and products. Our company is comprised of former US military members with specialized skills in the areas of Counterintelligence, TSCM, Information Security and Technical Security Engineering. This background has aided Vector Technologies' development of a patented countermeasures solution that exceeds NSA's recommendations for PED storage in classified environments. Should you have any questions regarding the PED threat and Vector's patented PED countermeasures solutions, please feel free contact us for more information.
Vector Technologies, LLC
1331 S. Eads St, Ste. 714
Arlington, VA 22202
(540) 872-0444
http://www.Vector-Techs.com
sales(at)vector-techs(dot)com