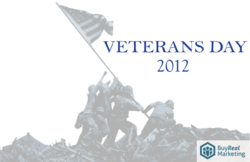 Ottawa, ON (PRWEB) November 12, 2012
As New York City was busy for the Veterans Day parade on the day that marks the end of World War I at the 11th hour of the 11th day of the 11th month of 1918, Buy Real Marketing at the same time is occupied with honoring all Americans who loyally served the country.
Buy Real Marketing, the leading provider of web 2.0 business applications, relates to the representation that Veterans Day 2012 brings to people not only in the military service but also in business. Loyalty to service and the US country giving back inspires Buy Real Marketing team to give 110 percent more effort into providing quality service to its 30,000 clients all over the world. Among the efforts are giving away discounts, prizes and freebies that are running simultaneously at present.
On November 11, Buy Real Marketing published a press release that the social media marketing company will be giving away an additional $25 fund for every $100 that clients spend on the BRM Client Portal™. This generous offer is significantly useful to veterans turned musicians, artists and online marketers in taking a step forward to reaching their goals without spending unnecessary pennies.
Buy Real Marketing knows the importance of rewarding loyalty not only of their clients but also of their employees who have consistently worked hard to make clients happy by providing the best marketing service they could through social media. The Buy Real Marketing team is composed of cool and intuitive individuals who know what clients want and have extensive marketing experience in the online and social media field. Because of their expertise in the technical aspect of the service and customer relations, many of the Buy Real Marketing clients are returning clients. This makes them a loyal bunch of determined people out to make their dreams happen in any way they can.
"We are glad to become that bridge for our clients to reach their dreams whether they maybe on music, business or any other endeavor. The veterans inspire us to become loyal to our promise to give 100 percent quality in everything we do. We hope that many more of our clients stay loyal to Buy Real Marketing service as well," mentions JP Bisson, Managing Director for Buy Real Marketing.
The company offers social media services such as Twitter followers, YouTube and Vimeo views, Tumblr and Pinterest followers and SoundCloud plays with an attached 100% Money Back Guarantee. They house skilled and friendly customer support available 24/7 via phone, chat and emails.
To know more about the company's services, visit their website at http://www.buyrealmarketing.com or contact them at 1-877-435-5955.
About
Buy Real Marketing is owned by Clicking Labs. Clicking Labs is a well-established internet marketing company founded in 2010 by Jean-Patrick Bisson, Diana Quartin and Jonathan Kennedy. The company specializes in driving search marketing and social media traffic, social web app development and conversion optimization. Each product or service specifically helps small/medium website owners increase online visibility and improve online sales.
###