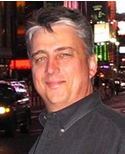 One of the best things about QR Codes is that they do not need input through a keyboard.
St. Louis, MO (PRWEB) September 27, 2012
Today's media savvy consumers upload 72 hours of video to YouTube every minute!
This makes it harder and harder for local businesses to stand out from the crowd when trying to get their brand or marketing video in front of the public.
Professional videographer and president of Video Solutions Inc, Steve Behrends and an associate, Theresa Miller, think they've come up with a way for his video clients to take advantage of new technologies rather then being a victim of them.
"We were brainstorming with one of the marketing gurus at the 1AutomationWiz.com that we use to sell our videos through, and the subject of QR codes came up. That's when the light went off! So we decided to apply QR code technology as a way for customers to drive traffic to their online videos and commercials," said Behrends.
A QR code is a two-dimensional bar code that contains alphanumeric text and often features URLs that direct users to sites where they can learn about an object or place, or video!
With so much video content competing for viewer attention, using the QR code to help clients drive traffic and views to their videos makes sense and it's a safe bet the strategy will payoff for Beherends and Miller.
In early September, Behrends production company at http://www.videosolutions.tv put together a new product that puts all the pieces together for the client automatically.
Video Solutions, Inc will write, shoot, produce and edit the clients corporate video or video commercial and then create and brand that video with a custom QR code unique to that customers web site or YouTube video channel.
"One of the best things about QR Codes is that they do not require through a keyboard, you use your smartphone. So now our clients can share their videos with their prospects and customers without having to give them a long URL," says Miller.
Based on marketing research, smartphones scanned over 14 million QR codes in one month alone in the spring of this year. Behrends feels that by by using QE codes in their marketing platform his video clients show their prospects and customers that they are on the cutting edge, a very important aspect to many of today's tech savvy consumers.
About:
Video Solutions. Inc, is the premiere video production company in St. Louis. They specialize in producing educational, commercial, special interest and corporate video titles for our own catalog as well as titles for outside agencies. Video Solutions, Inc's founder Steve Behrends brings over 25 years experience in the fields of Corporate Video Production and Educational Video production.
Visit their web site at: http://www.videosolutions.tv
Or YouTube channel: http://www.youtube.com/user/videosolutions