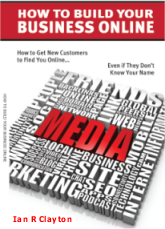 Clayton's non-nonsense advice helps readers pinpoint which tools on the market are worth the investment and which tasks should be delegated to a professional.
Halifax. Nova Scotia, Canada (PRWEB) April 03, 2012
Expanding upon the successful launch in December 2011 of his new marketing book How to build your Business Online Ian Clayton has developed a series of video tutorials that support sections of the book. Upon buying the concise guidebook on Amazon, customers unlock a secret link that provides access to the complimentary videos. Now the link is made available to all who are interested i online business.
Nominated by Small Business Trends for the 2012 Technology Book Award, "How to Build Your Business Online" is attracting attention from marketing professionals and entrepreneurs around the world. Clayton provides practical tips on how businesses can attract new online customers even if their brand recognition is still growing. This simple book breaks down complex concepts into manageable steps so that the average business owner can understand what it takes to succeed in developing effective keyword, search engine optimization (SEO) and search engine placement strategies. He also shows readers how to craft compelling videos, blogs, articles, mobile ads and social media campaigns that draw consumers to websites.
Clayton's non-nonsense advice helps readers pinpoint which tools on the market are worth the investment and which tasks should be delegated to a professional. "I invested time, money and sweat learning what works, what does not work so well and what is going to work best for your kind of business," Clayton says.
Like the book, the bonus tutorial series offers practical tips that achieve immediate results. Book patrons who join the subscription list are emailed a veiled link that provides access to a 16-minute video on "Keyword Strategies for Successful Search Ranking." The bonus content walks business owners through the process of checking and validating webpage SEO keywords to ensure they align with the goals of online marketing campaigns. The third video spends nearly nine minutes discussing On-Page SEO for keywords to ensure pages are ranked by search engines and found by customers.
Clayton plans to release additional videos and webinars to supplement the information contained in the book. The How to Build Your Business Online website also includes a helpful blog and a section for visitors to ask questions, share successes and discuss cutting-edge online marketing techniques.
The book and bonus videos produced for How to Build Your Business Online are a component of [SocialIndexEngine.com, an innovative SEO marketing tool for the travel industry developed by AXSES Inc. The company also hosts the Social4Travel1 YouTube channel, which provides additional tutorials on marketing strategies for video, content and mobile marketing as well as tips on how to strengthen online businesses, increase search rankings and create Facebook Fan Pages. The first video, "Articles, the New SEO & Viral Power Branding," is a four-minute tutorial that focuses on the importance of content marketing.
"How to Build Your Business Online" is currently available in paperback and Kindle formats on Amazon
For more information and to get the bonuses go to Book Website Tutorial Blog or call 877-848-2854.
About Ian Clayton
As the CEO of AXSES Inc., Ian Clayton has spent nearly 30 years building sustainable brands. Specializing in localized online marketing, Clayton utilizes his deep knowledge of systems design and analysis to create innovative marketing tools that help small businesses generate quality online leads and build a powerful online presence. In addition to "How to Build Your Business Online," Clayton has published an array of travel articles, videos and books. His works have appeared in the New York Times, the Financial Times of Canada and Earth Observation Magazine.