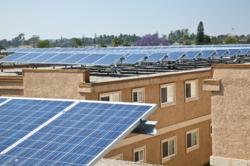 "This is truly a game changer for the solar industry in California."

--Scott Sarem
CEO Everyday Energy
San Diego, CA (PRWEB) August 24, 2012
In the past installing solar photovoltaic systems on multi-tenant or multi-family properties in California was often too expensive and complicated due to individual metering laws. Today that is no longer the case thanks to a recent decision by the California Public Utilities Commission, (CPUC) approving Virtual Net Metering for all Multi-tenant properties in California.
"This is truly a game changer for the solar industry in California. In the past multi-tenant property owners were unable to take advantage of the benefits of solar due to cost and Virtual Net Metering changes that. We are now able to offer all multi-tenant property owners the most cost effective option for installing solar," said Scott Sarem, CEO Everyday Energy (http://www.everydayenergy.us).
Originally developed for the affordable housing sector, Virtual Net Metering allows for the installation of one solar system and meter that sends all of a solar system's output to the grid, where the utility then allocates the energy credits to the tenants' accounts. The PUC's decision to expand Virtual Net Metering will help stimulate the solar industry and job growth by allowing companies like Everyday Energy to offer property owners a cost effective way to install solar on their multi-tenant properties.
In addition to major cost savings for property owners, Virtual Net Metering has the potential to make a significant environmental impact with millions of multi-tenant commercial and residential properties across the state of California.
The CPUC's decision to expand Virtual Net Metering to all multi-tenant properties is the result of its successful implementation in the affordable housing sector in which Everyday Energy led the way with the most Virtual Net Metering installations in the state of California. This decision is also based on recommendations provided in the Solar PV Retrofits Multifamily Affordable Housing report encouraging its expansion to all multi-tenant properties. The report was prepared by the City of San Diego's Solar America Cities Program and several contributors including City of San Diego Environmental Services Department, San Diego Housing Commission, MASH Program Manager Agnes Stupak at California Center for Sustainable Energy, Ted Bardacke Senior Associate, Green Urbanism Program at Global Green USA, Barry Getzel Director of Project Development at Wakeland Housing Corporation, and Scott Sarem, CEO of Everyday Energy. Furthermore, the decision was based on the experiences gained from industry participants such as the Investor Owned Utilities and solar companies like Everyday Energy. In fact, Everyday Energy was one of only a few solar companies to participate in the CPUC proceeding throughout the state of California.
"I am very proud to have been a part of the process that helped to guide the Public Utilities Commission on their decision to expand Virtual Net Metering to all multi-tenant properties. It not only reduces project costs significantly, but opens up the solar market, and provides an opportunity for everyone to participate in the solar economy," said Scott Sarem CEO of Everyday Energy.
About Everyday Energy
Based in Carlsbad, Calif., Everyday Energy is focused on bringing the benefits of solar energy to the multi-family housing sector, and is a leader in the design, financing, and installation of energy projects. Everyday Energy provides financial solutions that make installing solar a reality. Everyday Energy's projects save property owners and residents money, and increase property value for property developers and financial institutions.
To learn more about our Everyday Energy please visit the website at http://www.everydayenergy.us or contact Brian Zender at brian(at)everydayenergy(dot)us.
Additional Resources on Virtual Net Metering
What is Virtual Net Metering - Everyday Energy Video - http://youtu.be/7aT9PGZQ1W4
RESOLUTION E-4481 - http://docs.cpuc.ca.gov/word_pdf/AGENDA_RESOLUTION/161324.pdf
Solar for Multitenant Buildings? Introducing Virtual Net Energy Metering - http://hosted.verticalresponse.com/252090/1778022a82/1264022695/ddf9fd6fa4/
California PUC expands Virtual Net Metering to all multi-tenant buildings - http://www.irecusa.org/2012/04/california-puc-expands-virtual-net-metering-to-all-multi-tenant-buildings
Solar PV Retrofits Multifamily Affordable Housing - http://energycenter.org/index.php/incentive-programs/multifamily-affordable-solar-housing/virtual-net-metering