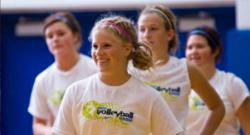 San Rafael, CA (PRWEB) May 04, 2012
MB Sports Camps and Nike Volleyball Camps pair up to offer a top-notch instructional volleyball camp at Webber International University. Centrally located in Babson Park, campers will have access to some of the finest facilities in the country as well as top notch instruction. Camp directors, Mehdi and Maria Belhassan have been working extremely hard to ensure the best possible summer volleyball camp experience for everyone in attendance.
This program is available to players of all ability levels. Here, players will master the fundamentals, develop proper mechanics and gain valuable game play experience. Every aspect of the game is covered, giving a solid foundation to build upon after camp.
Nike Volleyball Camp at Webber International University will be offering two consecutive camp sessions in the middle of June. Session I will be run from June 10-15 and session II will run from June 17-22. Campers of all skill levels, ages 10-18, can choose between the overnight, day (9am-5pm), and extended day (9am-9pm) programs. Campers who would like to maximize their potential can choose to participate in both weeks of camp and have the option of staying over the weekend in between sessions.
About US Sports Camps
US Sports Camps (USSC), headquartered in San Rafael, California, is America's largest sports camp network and the licensed operator of NIKE Sports Camps. Founded in 1975, Nike Tennis Camps is a division of US Sports Camps. What began 37 years ago as one tennis camp is now a national network with more than 500 summer camps across the country in a wide variety of sports.
Players, coaches, parents and others interested in Nike Tennis Camps and US Sports Camps can visit the company's website at USSportsCamps.com or phone 1-800-NIKE-CAMP.