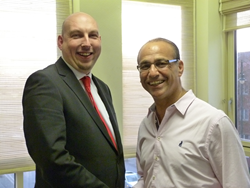 A social media website built by Winners for Winners
Norwich, Norfolk (PRWEB UK) 23 May 2012
The retail entrepreneur selects six small businesses each week to mention on the social media site. After analysing their pitches, he decides who to re-tweet to his 248,000 followers.
Hundreds of businesses have benefited from the Theo touch since the service was launched in October 2010.
Now to support the scheme, where Theo rewards small businesses that tweet to @TheoPaphitis and describe their business in one 140-character message, he has launched a new website - http://www.theopaphitissbs.com - designed and developed by one of his weekly winners, Metalfrog Studios Ltd.
Mr Paphitis explained that Small Business Sunday - hashtag #SBS - has captured the imagination of entrepreneurs throughout Britain. "It has created a tremendous buzz among entrepreneurs and the small business community and is fast developing as an exciting new networking initiative," he said.
When Mr. Paphitis decided to launch a website for the service he turned to social media professional Chris Wheeler who runs digital marketing agency and web design company Metalfrog Studios Limited, from offices in Norwich, Norfolk.
The 43-year-old website designer, developer and search engine optimisation professional had almost given up on his Small Business Sunday tweet after failing to get recognised by the business guru, who is chairman of the Ryman stationery group and owner of the lingerie company Boux Avenue. He also jointly owns Red Letter Days with fellow TV Dragon Peter Jones and has interests in a variety of other businesses in which he has invested through the hit television series.
Mr Wheeler, who employs nine staff staff including his wife, Julie, who is the company's finance director, said: "In July last year I decided to have one more attempt at grabbing Theo's attention. I resubmitted my tweet which explained how we offer a legal contract which guarantees success on search engines for UK businesses.
"The next morning I went in to work and realised that Metalfrog Studios had been one of Theo's chosen businesses and we had had 20,000 visitors to our website. It was my Eureka moment. Absolutely incredible. It has given the business a phenomenal boost."
Earlier this year, Mr Paphitis invited agencies to pitch for the work of designing a website for Small Business Sunday and Metalfrog Studios Limited was awarded the contract.
Mr Wheeler added: "It has been an incredible journey since we won the pitch and I first met Theo and his team, who run Ryman. I am very proud of the website we have produced and I am sure it will offer a focal point for these businesses."
Mr Paphitis said: "I admire people who have passion and energy. If you cannot bore your friends to death about your own small business then something is seriously wrong. I was struck by the number of business owners on Twitter who wanted to tell me about their new products and services."
"Small Business Sunday was born so that people have a specific time slot and can pitch their 'sell' directly to me."
"My vision is that everyone who has ever won an #SBS retweet from me becomes part of a friendly club. Like–minded individuals can share successes and learn."
"The website will give a valuable profile to the winners chosen to date and should help those who have not yet won but want some tips on how to do so. You will find news about the latest winners plus events and activities of interest."
"I know I have been lucky in business and I am keen now to spread goodwill to others, of course not forgetting that very often, you make your own luck by making use of every opportunity."
+To take part in Small Business Sunday describe your business in a tweet of 140 characters or less and direct it to @TheoPaphitis not forgetting the hashtag #SBS on a Sunday between 5pm and 7.30pm.