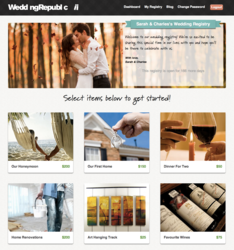 "Servicing the UK was something we always wanted to do, the inquiries confirmed that there was a demand, and we decided to go for it." - Wedding Republic CEO, Hana Abaza.
Toronto, Canada (PRWEB UK) 5 September 2012
Due to popular demand, online wedding registry website Wedding Republic, has recently decided to expand in order to offer their services to couples in the United Kingdom.
According to Hana Abaza, Wedding Republic co-founder and CEO, launching overseas was a necessary move for the company.
"The wedding industry in the UK is growing, and fast. We felt that Wedding Republic was a natural fit for the forward-thinking wedding community overseas. It seems they are always two steps ahead and are always looking for something fresh and new, which we offer with our online cash wedding registry," says Abaza.
After being featured by UK based blogger, Kat Williams on her alternative wedding blog, RockNRoll Bride, Abaza noted an increase in interest from couples in the UK.
Abaza goes on to say "We started receiving email inquiries asking about registries being administered in UK currency. Servicing the UK was something we always wanted to do, the inquiries confirmed that there was a demand, and we decided to go for it."
With Wedding Republic, couples can customize their wedding registry by adding photos of their ideal gifts to their wish list. They can include a description, set the price, and even break apart more expensive gifts into a puzzle allowing guests to chip in by purchasing affordable pieces. Wedding Republic also has a list of popular gift suggestions from which couples can draw ideas and inspiration.
Since Wedding Republic is a cash wedding registry, couples redeem the monetary value of their registry, meaning they aren't tied to a specific store and have the flexibility to use the funds as they see fit.
The convenience of contributing to the registry online from the comfort of their own home, and avoiding unnecessary trips to the store makes this the perfect solution for wedding guests who are also on a tight schedule.
Abaza goes on to say, "By keeping your registry personal and showing friends and family that they're contributing to your future is the key to creating a registry they'll love. It's a win-win scenario, couples get what they really want and guests get a convenient and meaningful way to give a gift."
Couples also have access to a personal registry consultant that can help guide them through the process and answer any wedding registry questions that might have. A feature that Abaza says, "Has been welcomed by many registry owners and guests."
Abaz adds, "Our staff is more than happy to help couples set-up their registry. Our goal is to help couples get cash all the while making it more meaningful for the guest to give cash, and couples really appreciate that."
Wedding Republic is an online cash wedding gift registry service. Its main focus is to help couples get what they really need by squashing the taboo of asking for cash as a wedding gift.
To find out more about how Wedding Republic works visit: http://www.weddingrepublic.com/howitworks
A sample registry can be seen at: http://www.weddingrepublic.com/sample
###