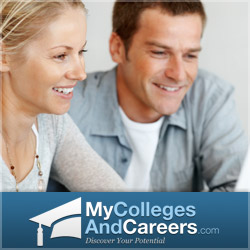 The weekly salary for individuals with a college degree is nearly double that of those who only have a high school diploma.
Provo, UT (PRWEB) February 01, 2012
The U.S. Department of Labor, Bureau of Labor Statistics reported on Tuesday, January 24th that the weekly salary for individuals with a college degree is nearly double that of individuals who only have a high school diploma. This data, which was gathered from statistics during the 4th quarter of 2011, shows that weekly salary has also grown by 1.6 percent across the board since 2010. Possession of a college degree can have a huge impact on quality of life. My Colleges and Careers provides resources to guide individuals toward online colleges where they will be able to earn a degree and qualify for a higher salary.
The study further revealed that individuals without a high school diploma only earned an average of $444 per week, while those with a high school degree were able to earn $661 per week. Conversely, those with at least a bachelor's degree earned an average of $1,158 per week. Looking even further, those with advanced degrees, such as a master's degree, earned up to twice that amount. The study broke it down into two interesting groups. The top 10 percent of earners with a master's degree who were male earned $3,146 per week. Women in this same group earned only $2,303. With the development and expansion of technology, online universities now offer all of these degrees through accredited online degree programs. The My Colleges and Careers website will guide individuals towards online courses that will fit their educational, career, and salary goals.
Featured on the website is the degree-finding tool which will allow students to find online schools that offer specific types of degrees. All of the schools featured on the site are accredited as well as considered to be top online schools. News updates, lists of top careers, detailed infographics and a professionally-written blog all add additional information and help for degree-seekers.The data clearly shows that individuals who have invested both time and money into an education are able to receive compensation for that investment for the rest of their lives. My Colleges and Careers is prepared to help any and all who are interested in taking steps to better their quality of life.
About My Colleges and Careers
My Colleges and Careers is dedicated to helping students and prospective students earn their college degrees through online degree programs. Considering that most students have other responsibilities and commitments, My Colleges and Careers can become a great resource for those seeking a way to fit school into an already busy schedule. Through online programs, students can complete their schooling at their own pace. The tools and services offered on the My Colleges and Careers website have already assisted many students in completing their education and starting a successful career.
###