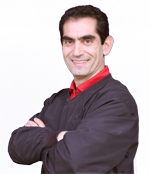 Permanent weight loss needs a fundamental shift in thought patterns.
San Diego, CA (PRWEB) September 30, 2012
Vishy Dadsetan, the owner of X5 Fitness, a private Escondido personal training studio and X5 Fitness Camp, a small-group training camp in Poway, CA just posted the stories of amazing weight loss and transformation on his websites.
Reality TV shows like The Biggest Loser, feature amazing weight loss stories of what can be accomplished by people of all ages, shapes and sizes with the help of an experienced personal trainer.
"Clients come to me wondering if they too can get in shape just like the ones on TV," says Vishy Dadsetan. "I just ask them to watch a few video clips of my other clients when they started and a few clips of the same clients a few months later. This usually answers their question."
The picture and the videos of these amazing transformations are at X5FitnessCamp.com along with detailed explanation of five transformational principles responsible for these changes. X5 Fitness principles lay out a plan of action that considers what people experience in their thoughts, what they feel inside and what they do physically and nutritionally.
"Everyone is unique and they need a process to help them recognize and rely on their unique abilities instead of a process that disregards their individuality," Dadsetan points out. " Their genetic makeup, their age, their experiences, their physical strengths and abilities are all different, and they need to have a custom-designed transformation plan that fits them instead of forcing them to fit into a limited cookie-cutter program."
Just as on TV, a real life, experienced trainer can recognize clients' needs, make adjustments to match those needs, hold them accountable and provide encouragement when needed to keep them moving forward. As Dadsetan says, "It is easy to do things wrong and wonder why the results do not come and find reasons not to workout when exercising alone. My clients tell me that they hear my voice even when I am not around."
"When I started in January 2011, there was nothing easy about camp. My body had a hard time keeping up; my mind wanted out, and my nutrition was being challenged. Vishy's approach cuts to the core of the problem and at times it bothered me. These were the times when I wanted to throw in the towel," writes Martha Perez one of X5 clients.
X5 Fitness training process helps individuals to deepen their understanding of themselves and draw strength from the calm, effective and focused core within them. "Life these days is uncertain, turbulent and stressful," says Dadsetan. "A transformation and weight loss process must provide a source of certainty, calm and relaxation, which can only be reached by both mental and physical effort. And you need a personal trainer who can show you exactly how to do this."
"One of the greatest lessons I have learned from Vishy, through X-5, is how to detach myself from life's circumstances, and the roller coaster that emotions can bring. I still feel emotions, but don't let them control me. This has been one of my greatest challenges as well as one of the greatest gifts I've ever received," writes Lori Croston.
For more information on personal training in San Diego and the new X5 Hybrid Home Workout Routines that combine personal training and online video instrustions contact Vishy Dadsetan at http://x5fitnesscamp.com/ or call toll-free at (877) 348-6873.