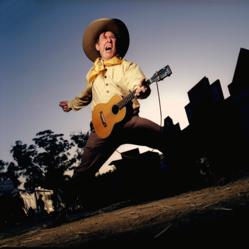 WestFest provides a chance to experience the American West right in Indianapolis.
Indianapolis, IN (PRWEB) September 18, 2012
Campfire smoke, horses, leather music, cowboys—the sights, sounds and smells of the West will surround visitors during WestFest, from 10 a.m. to 5 p.m., Saturday, Sept. 29, at the Eiteljorg Museum of American Indians and Western Art.
This year's event features the award-winning Western entertainer, Sourdough Slim. His fast-paced stage show finds him crooning Western classics, playing accordion, guitar and harmonica, dancing a jig, twirling a lariat, serving up hilarious comedic sketches and letting loose with his absolutely mind-boggling yodeling
Other highlights include:

Travel along with the wild stories and songs told by Buffalo Bill.
Taste vittles made by a real "cookie" at a chuckwagon
Watch a farrier (blacksmith) at work
Meet Western personalities, including black cowboy, Matthew "Bones" Hooks, Hopalong Cassidy and Cowboy Kate
Enjoy family activities, including panning for gold, buffalo chip tossing, water target shooting and mustache making. Plus, have a picture taken for a "wanted" poster and much more
Horses and longhorn steer.
WestFest is sponsored by the Indianapolis Colts. 2012 Diversity in the West programming is sponsored by Citizens Energy Group.
Admission to WestFest is included with museum general admission. Wear western duds and get $1 off admission.
###
The Eiteljorg Museum of American Indians and Western Art seeks to inspire an appreciation and understanding of the art, history and cultures of the American West and the indigenous peoples of North America. The museum, which opened in 1989, is located in Indianapolis' White River State Park. For general information about the museum and to learn more about exhibits and events, call (317) 636-WEST (9378) or visit http://www.eiteljorg.org.