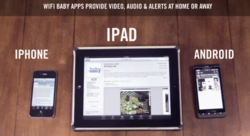 Parents now have the flexibility of using an iPhone, iPad, and Android phone or tablet to view and hear their child through any WiFi or data plan connection.
Palm Beach, FL (PRWEB) February 09, 2012
WiFi Baby™, a U.S. based supplier of WiFi network baby monitors, announces that the WiFi Baby 3G Video Monitor is now compatible with Android phones and tablets. Since its release in 2010, the WiFi Baby 3G Video Monitor has been highly reviewed by top technology and parenting websites. Combined with the tinyCam Monitor PRO app, the WiFi Baby 3G now allows Android owners to access their camera while at home or any location with full video and audio through any WiFi or data plan connection.
"Since the release of WiFi Baby 3G, we've had a huge demand from Android users," explained WiFi Baby CEO Stefanie Fox. "With the tinyCam Monitor PRO app by Tiny Solutions, parents now have access to video and audio on Android phones and tablets at anytime, anywhere."
"We decided to partner with Tiny Solutions, because they are highly rated, U.S. based, and have an active development team," Fox continued.
tinyCam Monitor PRO Features:

Landscape and portrait video
Video and audio on home WiFi network or anywhere on WiFi or data plan
Overrides Android device's "auto-lock" setting for continuous monitoring (perfect for overnight use)
Video only option, toggle audio on/off
Audio only option, toggle video on/off
Add multiple WiFi Baby cameras to app, switch between with swipe gesture
Option to add "Home" and "Away" settings for each WiFi Baby camera
Cam Scan feature, finds camera on home network for easy setup
Excellent customer support via Facebook or website
Compatible with Android OS 2.3 (Gingerbread) or higher
About Wifi Baby 3G Video Monitor
The WiFi Baby 3G is an innovative stand-alone wireless camera that connects to a WiFi network and streams password-protected video and audio to iPhone, iPad, and Android phones and tablets at home or on any external WiFi or data plan connection. It provides color video with 640x480 resolution, clear infrared night vision and has a highly sensitive microphone. The WiFi Baby 3G was originally released in 2010 with top product reviews from tech and parenting websites.
About Tiny Solutions, LLC
Tiny Solutions is a U.S. based company that develops highly rated home surveillance mobile apps for iOS and Android phones and tablets. The tinyCam Monitor PRO app is a bestselling app for the Android ecosystem and now features WiFi Baby compatibility for video and audio. For more information about tinyCam Monitor PRO app, please visit the listing in the Android Marketplace.
About WiFi Baby™
Florida based WiFi Baby is a supplier of smart and secure video baby monitors in the U.S. and Canada with U.S. based tech support and customer service. Since WiFi Baby's launch in December, 2010, their products and service have been featured and reviewed on CBS News, NBC News, Engadget, TUAW, Fast Company, AppleTell, PC World, and multiple parenting websites. WiFi Baby's brand recognition has grown exponentially because of the WiFi Baby 3G, a WiFi network based video baby monitor which allows parents to watch and hear their baby both at home or anywhere with a WiFi or data plan connection on iPhone, iPad, iPod Touch, Mac or PC. For more information on the products WiFi Baby offers, company videos or a live demo, please visit http://www.wifibaby.net and http://www.facebook.com/wifibabystore.
###