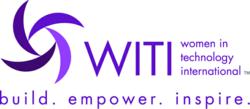 WITI's membership, corporate partners, sponsors and Summit attendees represent a powerful network of business advocates and advisors dedicated to the development of women leaders worldwide," said WITI Founder and Chairwoman, Carolyn Leighton.
Santa Clara, CA (PRWEB) May 09, 2012
WITI (Women in Technology International), the leading global trade association for professional, tech-savvy women announced today the keynote speakers and schedule of events for next month's Annual Women Powering Technology Summit. The Summit takes place at the Marriott in Santa Clara, California, June 3-5, 2012, during National Women in Science and Technology Month.
The Summit will feature keynote presentations from WITI's Founder and Chairwoman Carolyn Leighton, as well as Dr. Genevieve Bell, Intel Fellow, Intel Labs Director for Intel Corporation; Angela Benton, Founder of NewME Accelerator and Black Web 2.0; and Gwynne Shotwell, President of SpaceX. The Comcast Cable Keynote presentation will feature executives Lysa Dahlin, SVP of Human Resources, John Schanz, EVP and CNO, and Grace Killelea, SVP of Talent for Comcast Cable.
The 3-day Women Powering Technology Summit will present educational, technical and developmental workshops, informative panel discussions as well as thought-provoking speaking engagements with some of today's most influential and revered leaders in technology and business. Amanda Coolong, host and COO of TechZulu, will return as Master of Ceremonies.
The WITI Summit will span topics such as Social Business, Global Strategy, Data Security, Emerging Markets, Venture Capital and Workforce Diversity. WITI workshops will provide valuable how-to's and best practices for application and mobile development, social business strategy development, Cloud-focused IT transformation, strategic planning, leadership and career development, funding opportunities for entrepreneurs, self-publishing for authors and more.
"WITI members are key leaders and contributors to technology and business innovation. Every year, our global community of smart, professional, tech savvy women gather at our annual Summit to explore new possibilities, and develop strategies around advancing the business of technology through partnership and collaboration," said WITI Founder and Chairwoman, Carolyn Leighton. "WITI's membership, corporate partners, sponsors and Summit attendees represent a powerful network of business advocates and advisors dedicated to the development of women leaders worldwide."
The Women Powering Technology Summit features revered VIP events such as the Executive Auction fundraising event, Taste of Technology Reception, Founder's Reception and the prestigious Women in Technology Foundation Hall of Fame Awards, which honors women who have accomplished remarkable feats in their respective fields, in science and technology, while maintaining a dedication to encouraging the advancement of women. Educational and career development events will include the NextGen Micro-Conference on June 4, dedicated to inspiring girls to take an interest in STEM; and the WITI Career Fair presented by JobTarget on June 5, to help jobseekers meet companies dedicated to hiring top women talent.
Keynote Presentations:
Dr. Genevieve Bell, Intel Fellow; Director, User Interaction & Experience, Intel Labs, Intel
Angela Benton, Founder, NewME Accelerator, Founder/Publisher, Black Web 2.0
Gwynne Shotwell, President, SpaceX
Comcast Cable Keynote Presentation:
Lysa Dahlin, Senior Vice President, Human Resources, Comcast Cable
Grace Killelea, Senior Vice President of Talent, Comcast Cable
John Schanz, Executive Vice President and Chief Network Officer, Comcast Cable
WITI Summit Workshop Leaders, Speakers, and Panelists:
Maya Baratz, Senior Product Manager, ABC News
Sloane Berrent, Vice President of Digital Marketing, Lippe Taylor
Tara Tiger Brown, Co-founder, Teach Me Stuff
Nancy Cam-Winget, Distinguished Engineer, Cisco
Sandy Carter, Vice President Social Business Evangelism and Sales, IBM
Sophia Chung, Software Engineer, Facebook
JJ DiGeronimo, Author, The Working Woman's GPS
Laura Anne Edwards, Founder, SheCanHackIT.org and Alura Entertainment, LLC
Nicole Enright, VP, Strategic Operations, Avnet
Patricia Florissi, Vice President, Americas & EMEA CTO, Distinguished Engineer, EMC
Jen Friel, Owner/Lifecaster, Talk Nerdy To Me Lover
Cindy Gallop, Founder & CEO, IfWeRanTheWorld
Heather Healy, Vice President and EMC Products Division CIO, EMC Corporation
Joan Hestenes, Platforms IT Leader, Life Technologies
Bess Ho, Founding Partner and Mobile Architect, Archimedes Labs
Jessica Hunt, Senior Vice President and General Manager, HighTable
Brigette Jackson, VP GM Michigan/Indiana, T-Mobile
Michelle Koblas, Director, Information Security, Guardian Analytics
Betty LaMarr, Executive Coach, Nadisa Associates
Cameron Lester, General Partner, Azure Capital Partners
Marina Levinson, Founder and CEO, CIO Advisory Group, LLC
Sonita Lontoh, Head of Corporate Marketing, Trilliant
Amanda McConnell, Head of Product, Rent.com
Kathryn Minshew, Founder & CEO, the Daily Muse
Joanne Moretti, Vice President Sales Excellence & Dean of HP Sales University, Global Sales, Hewlett-Packard
Patricia Nakache, General Partner, Trinity Ventures
Maria Ogneva, Head of Community, Yammer
Stephanie Palmeri, Senior Associate, SoftTech VC
Nicole Perlroth, Reporter, The New York Times
Melanie Polkosky, PhD, Human Factors Psychologist, IBM
Sue Robins, Owner, Ascend Training Solutions
Sheryl Root, President and CEO, Root Analysis; Associate Professor, Carnegie Mellon - SV and Stanford University
Rinki Sethi, Security Engineer, eBay
Rachel Sheinbein, Partner, Energy and Materials, CMEA Capital
Lauren States, Vice President and CTO Cloud Computing and Growth Initiatives, IBM Corporate Strategy
Rakel Sölvadóttir, Founder and CEO, Skema
Candice Tal, CEO, Infortal
Pemo Theodore, Media Producer & Startup Coach, EZebis
Patty Toland, Partner, Filament Group, Inc.
Alexia Tsotsis, Senior Editor, TechCrunch
Vivek Wadhwa, Vice President of Academics and Innovation, Singularity University
Ekaterina Walter, Senior Social Media Strategist, Intel
Sharon Wienbar, Managing Director, Scale Venture Partners
WITI will make updates to the schedule of events leading up to the Summit. For the latest information, please visit: http://witi.com/summit. Event hashtag is #WITISummit
WITI Summit sponsors include: Amazon, Avnet, Caesars Entertainment, Comcast Cable, FedEX, FICO, GEICO, IBM, JobTarget, LinkedIn, Robert Half Technology, T-Mobile, Thomson Reuters and TiVO.
About WITI
WITI is the world's leading trade association for professional, tech-savvy women committed to using technology, resources and connections to advance women worldwide. With a global network of exceptionally successful women leaders, WITI has established powerful strategic alliances and programs to provide resources, and opportunities within a supportive environment of women committed to helping each other succeed. WITI's mission is to empower women worldwide to achieve unimagined possibilities and transformations through technology, leadership and economic prosperity. For more information, please visit http://witi.com. Follow @WITI on Twitter. Like WomenInTech on Facebook. Add WITI on G+. Active WITI members can also join the WITI LinkedIn Group.