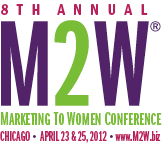 The week's theme, 'Women Mean Business!' is filled with learning opportunities focusing on the impact of women… The schedule also includes fundraisers, social activities and special events to help participants build business connections.
Chicago, IL. (PRWEB) December 13, 2011
"It's no secret that women dominate purchasing in almost every category. That's why we're expanding the activities surrounding the eighth annual M2W® – The Marketing to Women Conference to build an entire week in Chicago, April 23 -27, 2012 dedicated to exploring the economic and cultural impact of women worldwide," according to M2W® producer, Nan McCann.
"Reflecting the week's theme, 'Women Mean Business!' the agenda is filled with learning opportunities focusing on the impact of women. We want to help everyone from the C-Suite, and throughout the enterprise, understand the economic significance of women in every aspect of their business. The week's schedule also includes fundraisers, social activities and special events to help participants build business connections."
Global Kickoff
"Because of M2W®'s growing global draw," McCann explained, "the week starts with a kickoff luncheon at Noon on Monday featuring a keynote on the global rise of women's economic, cultural and political power. Not many people realize it, but over 30 countries have already had a woman serve as president. The global theme for the kickoff will help everyone understand the true worldwide impact of women. Plus the kickoff luncheon will serve double duty to raise funds and awareness for girls' education."
"The luncheon will be followed by two global educational sessions, showing how companies can expand their international opportunities by leveraging the purchasing power of women. The first session will focus on advertising research and how-to strategies and methods. The second session will show how brand marketers from a variety of product categories have already successfully marketed their products worldwide."
"After that we move on to more traditional M2W® components, including Marketing to Women 101 and a pre-conference workshop focusing on digital communication techniques. The day wraps up with M2W®'s traditional pre-conference reception which gives speakers, sponsors and attendees an opportunity to connect and compare notes."
M2W®'s Eighth Year
"Over the years, M2W® has grown to be the world's premier conference on marketing to women. It always features the very latest research case studies, workshops and how-to sessions, teaching marketers how to reach women on every communication channel. Our content runs the gamut from traditional print advertising and packaging to the very latest digital media."
"M2W® is annually attended by Fortune 1000 senior brand marketing executives. We've hosted attendees from all over Europe, the Mid-East, North and South America, Australia and Asia. Registration has included companies as diverse as Harley-Davidson, Bayer, Aetna, ESPN, Kraft Foods, Ford, GM, Johnson & Johnson, Kellogg, Diageo, Walgreens, Wells Fargo, NBA, Burton, Coca-Cola, L'Oreal, Kodak, ConAgra and Whirlpool. They attend because they recognize that women mean business and brand growth."
Defending The Caveman & A Gala Break From Business
"On Wednesday night after we wrap up M2W®, before we begin the third annual M2W® Health & Wellness conference, we'll host a couple of transitional networking and entertainment elements of Women Mean Business! First we'll present a custom performance of "Defending the Caveman" Broadway's smash hit comedy about the communication differences between the genders. It's really a lot of laughs. It drives home the message that marketing to women requires a more informed and nuanced approach than the typical ad. Caveman will be followed by M2W®HW's pre-con reception. After that everyone will celebrate with hors d'oeuvres and refreshments at the Women Mean Business! Little Red Dress Gala."
3RD Year For M2W® - Health & Wellness
"The second major component of Women Mean Business! is M2W®HW - The Marketing Health & Wellness To Women Conference starting Wednesday afternoon with a pre-conference reception and running through Thursday April 26. Like its sister conference, M2W®HW is designed to help marketers build market share with women."
"M2W®HW is specifically designed for marketers in the health and wellness categories. Companies who have sent execs and teams include: Microsoft Health Solutions, Bayer, AARP, Kraft, GlaxoSmithKline, Brigham & Women's, Clorox and Sanofi-Aventis."
"Women Mean Business! wraps up with a breakfast review on Friday morning."
For complete information visit: http://www.m2w.biz or call 860.724.2649 x11. M2W® is produced by PME® Enterprises LLC, 216 Main Street, Hartford, CT 06106.
Visit http://www.m2w.biz to learn more... to see the caliber and variety of attending companies click Get Connected on the tool bar... and click here http://www.m2w.biz/2011_conf_video.php to watch what attendees said about M2W 2011.
###