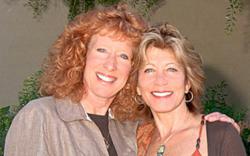 After drinking deeply at our collective well of wisdom, we can return to daily life renewed in body, mind, and soul.
(PRWEB) February 28, 2012
Women who want to feel more alive, joyful, and connected in pursuit of their soul's purpose are often over burdened with day-to-day responsibilities to the deeper currents that can guide and enrich their lives. EarthRise Retreat Center at the Institute of Noetic Sciences is hosting a women-only "time-out" retreat weekend April 21 and 22, 2012, for women to gather at a collective well of wisdom, community, caring, and fun where they can attend to their soul's purpose.
A Woman's Time-Out weekend will be lead by psychologist and spiritual educator Joan Borysenko and Karen Drucker, musician, author, and teacher. During the retreat, women will learn to get rid of messages of guilt and self-attack, to have fun while being productive and centered, and to develop a personal spiritual practice than can include sacred rituals and chants. Participants also will learn to optimize health and well-being by understanding the four quadrants of the feminine life cycle as well as simply singing, connecting with each other, and laughing.
Early bird registration for the workshop is $269 available through March 26, 2012. Thereafter, the regular fee is $289. Fees include the program and four freshly prepared meals. Onsite lodging is $75 per person per night for a shared room or $99 per night for a single room. For more information and to register, visit the EarthRise registration page or call Jan Fischer at 707-779-8202
Joan Borysenko, PhD, is a Harvard-trained biologist, licensed psychologist, and spiritual educator. A pioneer in mind-body medicine and psychoneuroimmunology, she is founder of Mind-Body Health Sciences, LLC in Boulder, Colorado, and a New York Times best-selling author of 14 books. She is director of the SoulCare in Healthcare training program and also a popular national speaker, radio talk show host, and blogger for the Huffington Post and other websites. http://www.joanborysenko.com
Karen Drucker has been called "a master of communicating presence and spirituality through music." She has recorded 14 CDs of her original inspirational music and is author of the book, Let Go of the Shore. She sings, speaks, and leads workshops at women's retreats, mind-body and health conferences, and New Thought churches throughout the country. She loves making music, making a difference, and touching hearts. http://www.karendrucker.com
About EarthRise
Located just 35 minutes north of San Francisco, EarthRise Retreat Center is a full service conference facility that caters to transformation learning experiences. Nestled among 194 acres of rolling hills and ancient oak trees, the center provides an environment to explore consciousness, ancient wisdom traditions, experiential learning, and modern scientific inquiry. At EarthRise at IONS, psychologists, educators, philosophers, frontier scientists, and spiritual masters lead transformational learning and lifestyle programs. For more information, visit the EarthRise website or contact Jan Fischer at (707) 779-8202 or workshops(at)noetic(dot)org.
# # #