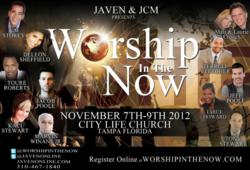 What an AWE-amazing time tonight at the Worship in the Now Conference!! Javen is bringing a FRESH sound to the body! Blessed to be a part of it tonight!!
Tampa, FL (PRWEB) September 27, 2012
Internationally acclaimed recording artist, speaker and actor, JAVEN, along with JCM Inc. and City Life Church present the Worship in the Now Conference on November 7-9, 2012. Featuring a star studded line-up of guests; this three-day life-changing conference provides teachings by great speakers, leaders and pastors on successful living, spiritual growth, and more. More than just another gathering, this conference is designed to unleash the power of worship in daily living; it will provide a release from depression and anxiety, increase strength to overcome everyday challenges, and equip leaders and entrepreneurs to be more effective. Worship is the untapped source that will unleash a better lifestyle.
Special guests such as 'Iron Man' Life Coach Tim Storey, Grammy nominated artist DeLeon Sheffield, former NFL Player Terrell Fletcher, Matt and Laurie Crouch of TBN, and others will deliver these powerful messages which will be sealed with a dynamic MUSIC CONCERT. The combination of teachings with the power of inspirational music yields an unrivaled, life-altering experience.
The Worship in the Now Conference has toured cities like San Diego, CA, Atlanta, GA, and more leaving a great impact on those cities. Visionary Leader and Pastor, Touré Roberts of Los Angeles, CA said, "You're on to something! Incredible meeting tonight!" Founding Senior Pastor of New Hope International, Bishop Poole tweeted, "Great worship conference. Worship Now!!" "What an AWE-amazing time tonight at the Worship in the Now Conference!! Javen is bringing a FRESH sound to the body! Blessed to be a part of it tonight!!" said attendee, Josiah Silva
The Worship in the Now Conference in Tampa will be partnering with local humanitarian organizations to collect food for the homeless for the holiday season. The special community wide mass choir concert on Friday night, November 9th will include a food drive where all attendees will be asked to bring can goods and non-perishable items to help support the food drive for the homeless and lower income families of the Tampa Bay area. "There are many people suffering through hardships these days. Worship is a secret weapon that lies within. When people learn how to truly worship, it will bring healing to their situation without relying solely on sermons to get them through," says JAVEN.
For more information on the Worship in the Now Conference, visit the website, the Facebook Page, and Twitter @WorshipintheNow.
About JCM Inc.
JCM Inc. is a powerful not-for-profit organization that changes lives across the country and around the world while partnering with such humanitarian works like Hope for Haiti, World Vision, LA Dream Center, and several domestic mission programs that deal with homelessness, hunger, and poverty.
About CityLife Church
CityLife Church is a diverse congregation representing people from a variety of backgrounds, nations, races and ages. Known for its relevant worship experience, prophetic teaching, loving atmosphere and generosity to others, their passion is their community and neighbors.