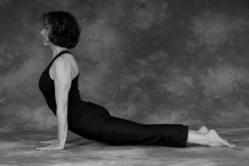 Eagan, Minnesota (PRWEB) February 01, 2012
A workshop at YogaSoul Center in Eagan will help people detoxify and rejuvenate their bodies through a range of yoga postures.
The workshop, "The Yin and Yang Approach to Organ Detoxification," takes place on Saturday, Feb. 4. It will help yoga students detoxify their organs through yoga postures that are yang in nature -- more heating and dynamic -- as well as yin postures, which are slower and typically held for longer than yang poses.
"The pace in which we live our lives can easily put a strain on our nervous system, causing our vital organs to be in the 'fight, flight or collapse' mode," said Jill Carey, workshop leader and yoga instructor at YogaSoul. "When we don't allow our bodies to naturally release the toxins that accumulate over time, it shows up in ailments such as fatigue, irritability, irregularity in the bowels, insomnia and sluggish immune system, just to name a few."
Toxins come from various sources, including perfume, chemical pollution, and even emotionally-charged dramatic situations.
"The workshop, in essence, stirs up the toxins in the major organs through the active yang portion, then in the yin postures we open the pathways for them to leave the system, resulting in a sense of lightness and feeling rejuvenated," Carey said.
Areas specifically addressed are the kidneys and liver, lymphatic and circulatory systems, and the skin, along with the ascending colon, transverse colon and descending colon. Carey will also explore the energetic qualities of these organs, allowing students to understand how healthy organs lead to clear minds and a life lived with vitality and strong intentions.
The workshop is suitable for all levels of yoga students. It takes place from 1:15 to 3:15 p.m. on Feb. 4. Cost of the workshop is $25 if paid for by Feb. 1; after that it's $30.
YogaSoul's mission is to help clients win the battle against stress. It has an extensive class offering in several styles of yoga, including Kundalini, Hatha, Yin, and Vinyasa. It boasts a fully equipped Pilates studio and offers many kinds of classes, including Zumba, Tai Chi and belly dancing. Its full roster of teachers and healers provide clients with a variety of healing services, including intuitive readings, Reiki, Thai yoga bodywork, Ayurveda, energy work and several others. YogaSoul also hosts special workshops and Kundalini yoga teacher trainings.
To see a full schedule, make an appointment with a healer or sign up for a class, visit YogaSoul's
website, http://yogasoul-center.com/. New students get their first week of classes free.
###