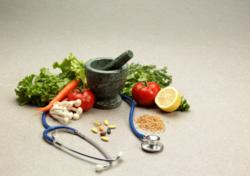 When diet is wrong, medicine is of no use. When diet is correct, medicine is of no need. – Ancient Ayurvedic Proverb
Eagan, MN (PRWEB) July 24, 2012
YogaSoul Center in Eagan is offering new ways to stay cool and ward off stress this summer.
Vasantha Reddy on Friday, July 27, will teach a class called, "Winning the Battle Against Stress & Illness with Yoga and Ayurvedic Remedies." Ayurveda is a sister science to yoga, and is one of the most remarkable holistic medical systems covering physical, mental, emotional and spiritual health.
In this class, Reddy will show students how to determine their Ayurvedic body type, and identify the ailments that people with that body type usually experience. Participants will learn about diseases and remedies that involve yoga and diet to address the illnesses.
The class takes place from 6:30 p.m. to 8 p.m. on Friday, July 27. For more information, contact the YogaSoul team at info(at)yogasoul-center(dot)com.
Need other ways to stay cool this summer? Try yoga postures, breathing techniques, diet and more. YogaSoul's team of experienced, knowledgeable teachers put together these tips to help people beat the heat:
YOGA POSTURES
Parsvottanasana/Pyramid Pose:
This forward fold is amazing for cooling the body, and stretches the legs. Stand with feet together in Mountain Pose, then step the right foot straight back about three feet, keeping toes turning forward as much as possible, with hips square (right under shoulders). Lift the chest and extend your spine, and hands can be on the hips or clasped around the back. Take a deep inhale and fold forward from the hips as far as you can maintain a straight spine, lengthening along the way. Roll the hips up, hold and breathe, and keep the weight in both of your feet. Hold for 10 breaths each side. When you come up, pause in Mountain Pose before doing the other side (the spine should feel long; fold forward as far as it feels good to you). This pose is great for anyone with tight hamstrings or calf muscles, and it is also great for moon cycle and perimenopausal symptoms.
Belly Savasana:
This pose soothes and grounds you, allowing you to let go of tension in the belly and reconnect your center to the earth. To do this, lie on your belly with elbows out to the sides, one cheek on the floor. Rest for five minutes. If you have low-back discomfort, flip over, or push back into child's pose (knees folded under, upper body and forehead on floor).
BREATHING TECHNIQUES
Sitali Pranayama:
This is a favorite hot weather remedy. Curl the tongue and inhale through the rounded tongue, close the mouth and exhale through the nose. This breath is simple, easy, and effective against inner heat, stress and illness.
Left Nostril Breathing:
Block off your right nostril by putting gentle pressure on it with your right thumb (your other fingers should be straight and pointing up). With a long, slow, deep breath, gently inhale and exhale through your left nostril. This relaxing, cooling breath will bring new life into your body.
DIET
Ayurveda describes summer as Pitta season. Pitta is made of fire and water, and its qualities are hot, sharp, oily, and light. During summer season you can reduce Pitta heat within your own body by eating a diet of cooling foods. Some examples of foods that can keep you cool during summer are watermelon, cucumber, mint, coconut, summer squash, fennel, cilantro, and aloe vera.
It's also best to avoid spicy, acidic and greasy foods during summer as they will increase the heat in your body and make you feel hotter. Also avoid sugar, caffeine, alcohol, and heavy starches (like bread) in your diet, because they create inflammation in your body.
Drink liquids that are room temperature is best. Ice-cold beverages (which many of us drink to quench our thirst in the summer) create heat in the body. The body must use more energy and heat up to help that water reach body temperature.
ELEMENTS OF NATURE
Jump in a lake! Water is cooling. Totally immersing yourself in the water element not only cools your body down, but it also helps quell hot or irritable emotions. Get in water - whether it's a lake, a river, or your bathtub. Connect to the element of water. Let it move in through your pores, soothing and calming you.
YogaSoul's mission is to help clients win the battle against stress. It has an extensive, class offering in several styles of yoga, including Kundalini, Hatha, Yin, and Vinyasa. It boasts a fully equipped Pilates studio and offers many kinds of classes, including Zumba, Tai Chi and belly dancing. Its full roster of teachers and healers provide clients with a variety of healing services, including intuitive readings, Reiki, Thai yoga bodywork, Ayurveda, energy work and several others. YogaSoul also hosts special workshops and Kundalini yoga teacher trainings.
To see a full schedule, make an appointment with a healer or sign up for a class, visit YogaSoul's website, http://yogasoul-center.com/. New students get their first week of classes free.
###