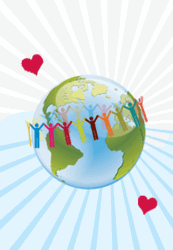 "Yoga has done so much for me personally, so this is an opportunity for me to give back," said teacher Denise Bunch. "It's a great opportunity to honor yoga, and bring our collective energy together with thousands of other yogis during that same time."
Eagan, MN (PRWEB) August 21, 2012
Leaders and instructors at YogaSoul Center in Eagan are joining thousands of yogis around the world in raising money for charity.
YogaSoul leaders Denise Bunch and Amy Goettl are raising money for the World Challenge. The challenge is the first global yoga relay, uniting yoga communities from around the world in order to raise money for charity. On Sept. 9, yogis on six continents will participate in special classes, beginning in the morning in Sydney, Australia, ending with sundown in Los Angeles, Calif.
Bunch and Goettl are leading a special yoga class at YogaSoul on Sept. 9. The class is free, and will focus on the feeling of service and gratitude, as well as commitment to yoga. The class will last one hour and 15 minutes.
"Yoga has done so much for me personally, so this is an opportunity for me to give back," Bunch said. "It's a great opportunity to honor yoga, and bring our collective energy together with thousands of other yogis during that same time."
To donate to either of the YogaSoul leaders' pages, visit http://www.yogaaid.com/denisebunch and http://www.yogaaid.com/amygoettl.
Bunch said this is an opportunity to, as Ghandi says, "be the change you want to see in the world."
"If we want the world to be a more peaceful, calm, happy and joyful place, then yoga needs to be available to everyone," she said. "And it starts by practicing, and becoming more centered and peaceful yourself."
YogaSoul's mission is to help clients win the battle against stress. It has an extensive, class offering in several styles of yoga, including Kundalini, Hatha, Yin, and Vinyasa. It boasts a fully equipped Pilates studio and offers many kinds of classes, including Zumba, Tai Chi and belly dancing. Its full roster of teachers and healers provide clients with a variety of healing services, including intuitive readings, Reiki, Thai yoga bodywork, Ayurveda, energy work and several others. YogaSoul also hosts special workshops and Kundalini yoga teacher trainings.
To see a full schedule, make an appointment with a healer or sign up for a class, visit YogaSoul's website, http://yogasoul-center.com/. New students get their first week of classes free.
###