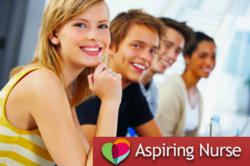 1 in 3 young workers are underemployed.
Lehi, UT (PRWEB) May 16, 2012
1 in 3 young workers are underemployed, Gallup Economy reports on May 9, 2012. This means that young adults are more than twice as likely to be underemployed than older adults, making it difficult for the up-and-coming generations to find a firm footing in their respective careers. Aspiring Nurse offers several options on their website to help young adults, and anyone else who is seeking to better their quality of life, combat the difficult economy by acquiring a valuable education.
Over the past year, this number has remained more or less consistent. Young workers, especially recent college graduates, are finding it extremely difficult to obtain work for which they are qualified. Many have had to settle for jobs that will only allow them part-time hours, or that require a skill set far below their capacity. Some industries are without doubt suffering more than others. Fortunately, health care is not one of these. Aspiring Nurse has created a website that can guide individuals towards online nursing schools where they could earn a nursing-related degree. Whether they want to go the traditional hospital route and work as a Registered Nurse or be more adventurous as a Travel Nurse, the options are many when it comes to finding work in the healthcare industry.
Tools on the Aspiring Nurse website will not only provide adequate information about the various online degree programs related to health care, but will connect students directly with schools that can help them get their degree. The ease of completing online nursing programs comes from the fact that any online program will allow a certain level of flexibility and freedom that can't be found in a traditional college setting. As young workers in particular face a difficult job market, becoming certified in any aspect of the health care field will be of great benefit and help to ensure a secure career in the future.
About Aspiring Nurse
Aspiring Nurse was created to guide degree-seeking individuals toward online colleges and universities where they can complete their education. As the health care field continues to grow, despite a lagging economy, Aspiring Nurse can help streamline the process of finding a school, completing a degree, and starting a successful career.