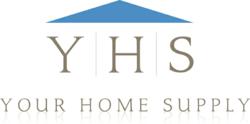 Our attention to our products helps us guarantee you purchase updated, quality hardware that will last for years to come. You can also rely on us to provide you with honest pricing and low shipping rates making Your Home Supply the best place to shop.
Harrisburg, PA (PRWEB) March 06, 2012
One-stop-shop website for home hardware needs, YourHomeSupply.com, continues its tradition of exemplary service and quality product lines with a focus on decorative cabinet hardware. In support of this endeavor, they have introduced some new features to better cater to their customers. One of these recent modifications involves the shipping cost. A flat rate has been implemented to provide a more practical and affordable shopping experience for Your Home Supply customers.
"Currently, shipping on all orders will only cost you $3.95," says Jim Richardson, Vice President for Your Home Supply. "You place your order. We ship it for $3.95. No matter what you buy. No matter how much you buy."
He elaborates, "When purchasing merchandise from more than one manufacturer, your order may be shipped from more than one location; meaning you could have multiple packages showing up at your door. If this happens, you still only pay $3.95 shipping for your entire order."
The flat rate, however, only applies to mainland USA and does not cover Hawaii and Alaska. Although Your Home Supply does not ship internationally, those in Canada may ask for a shipping quote, but they are advised not to place an order without contacting the company first.
As previously mentioned, Your Home Supply offers a variety of high quality hardware products for doors and cabinets. Besides these, they also offer other home products including bathroom hardware, ceiling fans, closet organizers, smoke alarms, trash cans, gardening tools, etc. The company has just added new products from the Hickory Hardware and Amerock lines, further reinforcing its extensive collection to help customers find just the right products for their home needs.
Through the years, YourHomeSupply.com has earned the trust of online home supply customers in America. For excellent service and quality products, they know the right place to shop online. "Unlike some websites that promote and sell any products they can get access to, we hand pick the products that we offer," Richardson points out. "Our attention to our products helps us guarantee you purchase updated, quality hardware that will last for years to come. You can also rely on us to provide you with honest pricing and low shipping rates making Your Home Supply the best place to shop."