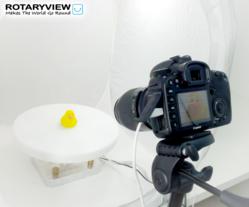 The RotaryView platform was created for all to use, techy or otherwise - easily, quickly and fuss-free.
Petach Tikvah, Israel (PRWEB) February 09, 2012
RotaryView Ltd. announced today the global launch of its new 360° product photography platform designed to increase sales and build a strong client base for online vendors by giving shoppers an enjoyable and comprehensive e-commerce experience.
"The RotaryView platform was created for all to use, techy or otherwise –easily, quickly and fuss-free. There is no need to know code. Simply photograph your subject, from every angle, with any camera, and then upload the photos. The RotaryView platform does the rest. Nearly instantly, the system will create a 360° product presentation which can be easily fine-tuned and customized, and then instantly embedded on any e-commerce website, posted on social media sites like Facebook, or sent to a friend. Photos are stored on the RotaryView server, saving users space on their own system. The system's multi-platform player uses html5 for IOS," said Ofir Shefer, CTO, RotaryView.
Mr. Shefer continued, "Study data show that 360° product photography presentations help to increase on line sales. We also know that there is a split second to gain the attention of an online customer and if load time is too slow, it only takes that same split second to lose their attention. With this in mind, we have designed the RotaryView platform to move lightning fast, so that customers, with the click of the mouse, can easily explore and 'check out' any given product from every angle. Other functions enable customers to smoothly make a purchase and share the news with friends. It is our hope that shoppers will sincerely enjoy and ALL will benefit from the RotaryView experience."
Future generations of the RotaryView platform featuring other prime functions and applications are already at the advanced stage of development and are patent pending.
About RotaryView
RotaryView helps online vendors grow sales, quickly, simply and fuss-free through the creative and effective use of a 360° product viewer. Unlike others, RotaryView's photgraphy platform does not require knowledge of code. Simply shoot and upload the photos. Nearly instantly, images are transformed into a 360° product presentation enabling customers the freedom to explore and thoroughly review a product, from every angle. The result: happy customers and increased sales. RotaryView is managed by CEO Mr. Gev Rotem and CMO Mr. Gal Rotem, entrepreneurial cousins with a vision to advance e-commerce to the next level.
For more information please visit http://www.rotaryview.com
Visit us on Twitter
Visit us in Facebook
###