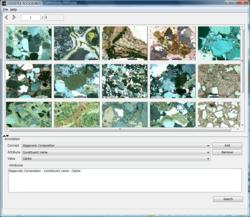 Endeeper software ensure the precision of geological models even when applied to complex Brazilian oil reservoirs.
Porto Alegre, RS, Brazil (PRWEB) February 13, 2012
Petrobras has renewed for three years the contract of maintenance and support of the software package Petroledge, Hardledge and RockViewer with Endeeper. The software package for management of petrographic analysis data was expanded to meet the specific requirements of Petrobras corporate software, which includes the integration with proprietary software of Petrobras.
Annually, the specific versions of the software for Petrobras evolve according to the demands of company geologists, engineers and the information technology team. Users can access the systems from any Petrobras laboratory in Brazil. Furthermore, service companies uses Endeeper software to provide petrographic study services that can be loaded directly into the corporate database of Petrobras, without requiring manual data conversion.
PhD Luiz Henrique Boff, Endeeper's CEO commented: "Petrography provides the basis for building precise predictive models of reservoir quality. Endeeper solutions accelerates the training process of new employees and grants the quality of acquired data, which contributes significantly for the knowledge management process of Petrobras. The standardization of the description format, without loosing the level of detail needed for reservoir characterization, makes easier the integration among petrographic data and geological models, ensuring the precision of these models even when applied to complex Brazilian oil reservoirs."
About Endeeper
Endeeper is a provider of software and services for knowledge management and data integration of geological data. A complete range of software is available for geological analyses based on petrological characteristics of the rock, providing a sophisticated support for information capture and robust data sharing through databases in corporate environments.
The Products & Services portfolio is composed by a range of solutions that combine geology, computer science and knowledge management. The portfolio includes software for petrography, software for reservoir characterization, software development, custom projects, and training on geology, computer science and knowledge management.
For further information, please visit http://www.endeeper.com
About Petrobras
Petrobras is the biggest company in Brazil and the 8th biggest in the world in market value. Petrobras operates in exploration and production; downstream; trade, transportation and petrochemicals; derivative distribution; natural gas; biofuels, and electric energy.
For further information, please visit http://www.petrobras.com.br
###