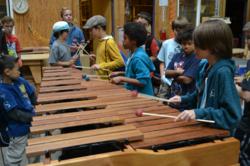 Arcata, CA (PRWEB) May 17, 2012
At noon exactly on a super-sunny Saturday in April, Brenda Myers pulled up to the Marimba One shop in Arcata, California.
Her tour bus was loaded with more than 60 people -- percussion students traveling to Arcata for a performance with Eugene Novotney's famed Calypso band at Humboldt State University (HSU).
Brenda, a long-time Marimba One fan, brought her students to see first-hand how a marimba is built. As they watched in amazement at how a bar is tuned, a fifth grader exclaimed "I want an internship here," while another kid shouted, "I want to sleep under the marimba!"
That evening's performance got them the best ovation of their lives. "They were great kids," enthused Eugene Novotney, Professor of Music at HSU.
About Marimba One
Marimba One is the world's premier maker of concert marimbas. Located in the college town of Arcata, nestled in the Redwoods of California, the company makes custom marimbas, giving great attention to the sound that customers want on their instrument within their budget.