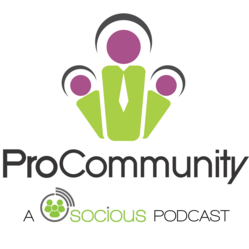 Mesa, AZ (PRWEB) July 10, 2012
Socious, an online community software provider for businesses and membership organizations, launched the world's first web series that focuses on how online communities impact business performance. The show, titled ProCommunity, features in-depth conversations with industry experts on how companies can use online communities to drive growth, innovation, and customer loyalty.
"Online communities are all around us, ranging from Facebook pages to your local Corvette enthusiasts club. However, the rules for businesses are different. Companies need deliberate strategies and processes to create and participate in online communities that achieve specific goals. We created ProCommunity to address those unique business challenges," said Paul Schneider, Co-Founder and Senior Vice President at Socious.
ProCommunity episodes will include interviews with social business and online community professionals from across the business landscape - from the boardroom to the trenches of community management. Guests featured in the first several episodes include:
Vanessa DiMauro, CEO of Leader Networks, a B2B social strategy and research consulting firm
Richard Millington, Founder of FeverBee, an online community consultancy
Rachel Happe, Principle at The Community Roundtable, an information services organization dedicated to the business of community
On why the podcast's results-oriented theme is important, Joshua Paul, Director of Marketing at Socious and ProCommunity host said, "Most of the mainstream social business discussion revolves around how large consumer companies use public social networks. This is the first show to bring together social business experts to highlight how businesses and membership organizations are using online communities to impact their bottom line."
Marketing, customer care, and product management executives can watch ProCommunity on the Socious website (http://www.socious.com/procommunity) and subscribe the show as an audio podcast on iTunes.
About Socious
Founded in 2002, Socious (socious.com) offers the industry's most complete online community software to large and mid-sized businesses, associations, and user groups. The Socious platform includes private social networking, customer communication tools, advanced segmentation, forums, collaboration tools, and a full mobile platform to help organizations increase sales, retention, and member engagement. Take an online tour of Socious online community software.