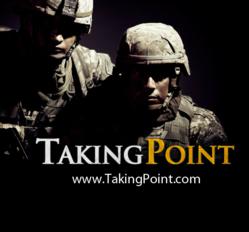 An exclusive Veteran community where Vets can tell their stories and network with other Vets.
Scottsdale, Arizona (PRWEB) July 24, 2012
On July 12th, Taking Point launched its veteran-only website. The brainchild of Army 10th Special Forces and Iraq War veteran David Johnson, Taking Point leverages social media to offer new opportunities for veterans across the United States while respecting and maintaining their privacy.
The military offers a lasting attraction because of its focus on a valuable mission with a close-knit team. Taking Point wants every vet to stay connected to that past while building a bridge to a more successful future. As a company built and led by veterans, Taking Point understands the need to take advantage of military experience, not be defined or limited by it.
There's something on Taking Point for every veteran: finding buddies from old units; sharing stories related to the military; offering a helping hand to another vet; or simply reading one of the thousands of stories on Taking Point.
Many vets in America don't have a strong, authentic community because they have a hard time finding others who understand their military experiences. Taking Point lets members who share interests connect across branches of service, expanding their professional and support networks.
If you are a Veteran and want to rediscover the best of your years in the military, you need to join Taking Point.
About Taking Point
Taking Point, is the online community for America's current and former military personnel. We are veteran-founded and led, and are focusing exclusively on keeping the site safe for veterans. This is a community to join if you want to rediscover some of the sense of belonging and pride that's missing from civilian life. Remember when you had a mission that you shared with everyone in your unit? That's what Taking Point brings back to you. It's a network of veterans, by veterans, for veterans.
We are about more than just "liking" some post that someone put up - it's not a regular social media company. This is a place where everyone identifies with each other at the most basic level. No one judges because we have all been there. You can say anything you want and other veterans will get where you are coming from. No fake patriotic bumper stickers, just real American patriots.