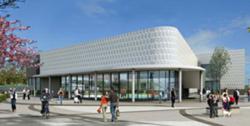 (PRWEB UK) 30 August 2012
The £16m project will see a prime spot on the South Shields seafront turned into a leisure center complete with 25m swimming pool, learner pool, fitness suite and sauna, cafe and exhibition space.
Barnshaw Section Benders was heavily involved in the project by bending numerous materials to various radii. Barnshaw's branch located in Cosely provided angle bending, channel bending, column bending and beam bending services for this project:
▪ 100 x 75 x 12.0 RSA Angle
▪ 125 x 65 x 15 PFC Channel
▪ 152 x 152 x 23 UC Column
▪ RHS Y-Y up to 400 x 200 x 10.0 RHS
▪ Beam Y-Y up to 203 x 133 x 30 UB
▪ SHS up to 200 x 200 x 10.0 SHS
Leader of South Tyneside Council, Councillor Iain Malcolm, said: "We have a beautiful coastline and it is our job to maximise potential of this fantastic natural asset. The pool forms a key part of our regeneration plans for the South Shields foreshore and will provide us with a first-class indoor leisure facility, which means we can attract local people and visitors whatever the weather."
The South Shields project administered by LA Architects Limited is due for completion in spring 2013.
For more information about the project visit: http://www.graham.co.uk/whatwedodetail/9/143/pools-on-the-foreshore.aspx?expanddiv=slide_9,slide_2
For more about Barnshaw's bending work and other innovative projects visit: http://www.barnshaws.com/blog/
Follow us on Facebook,Twitter or LinkedIn. Lets connect!