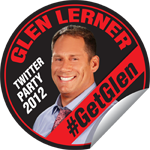 We are hosting an online party for those who cannot attend our Pahrump law office grand opening celebration in person on Twitter. This is our first online party and we are excited to be able to include all who wanted to join in the celebration.
Pahrump, NV (PRWEB) August 07, 2012
WHO: Glen Lerner Injury Attorneys
WHAT: Online interactive "Twitter" party to celebrate the grand opening of the new Glen Lerner Injury Attorneys Pahrump, Nevada, law office at 2220 E. Nevada West Blvd., Suite 1.
WHERE: Go to Twitter.com, then search and follow the #GetGlen hashtag.
WHEN: Friday, August 10, 2012 | 11:00 a.m. – 1:00 p.m. (PST)
WHY: Glen Lerner Injury Attorneys is hosting an online and interactive "Twitter Party" August 10, 2012, from 11:00 a.m. – 1:00 p.m. (PST) so that all those who wanted to attend the grand opening and could not physically be present, may still participate in the festivities and get live updates as events occur. To attend the online party, guests need to have a Twitter account and then RSVP online at glenlerner.com/twitter-party. Party prizes will be awarded and include one $50 Amazon gift card for the top tweeter and two $25 Amazon gift cards. Online guests must be at least 18 years old to participate and to win prizes. More "Twitter Party" details may be found at glenlerner.com/twitter-party.
ABOUT: Glen Lerner Injury Attorneys has been helping injury victims in Southern Nevada since 1991. Over the last decade Mr. Lerner has built the largest personal injury law firm in Las Vegas and is now one of the most successful injury law firms in the nation. The Nevada law offices of Glen Lerner Injury Attorneys handle personal injury, criminal defense, class action and commercial litigation cases. Their affiliate partner offices in Arizona, Minnesota, Illinois, Louisiana and Florida are able to help victims with their personal injury, criminal defense, bankruptcy, BP oil spill and class action medical and product liability claims. For additional information, visit GlenLerner.com or call (702) 877-1500 or toll-free 1 (800) GET-GLEN.