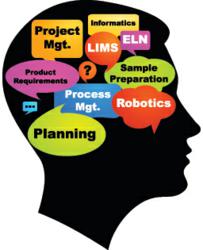 Most courses in laboratory automation focus on training for specific technologies and applications. Our approach is quite different. We provide unbiased, vendor-neutral education on how to plan and implement lab automation systems.
Groton, MA (PRWEB) August 23, 2012
New Webinar Series Overview:
In September 2012, the Institute for Laboratory Automation and Lab Manager Magazine, as part of the Lab Automation University program, will offer a series of webinars under the heading "Lab Automation is Inevitable: Are You Ready?" – a title that emphasizes the direction the technology is moving and the need for lab management to become involved in the planning required to take full advantage of these inevitable changes.
Some of the Benefits:
Most courses in lab automation focus on specific technologies. With tighter budgets, an emphasis on productivity, and increasing interest in integration and connecting systems, what is needed is the ability to take a higher-level view, being able to see how the technologies relate to each other, and determining those that are best suited to your needs. That is what we're offering in this series, that higher-level view that gives you the basis for planning, avoiding duplication, and making better use of your budget and resources.
What the Different Webinars of this Series Will Cover:

What lab automation is – and it is NOT just a collection of technologies
The structure of the field, and why it is important to the end user
Classes of implementation
Skills managers and lab staff need to plan and manage systems
Options for improving productivity
Management's role in lab automation
Considerations in making purchases
To take advantage of this Webinar Series or for more information, click here: Lab Automation University!
Who should attend?
These are a series of courses for those individuals or teams that want to develop or maintain successful lab automation programs in their labs. Lab directors, managers, supervisors, staff, etc. who are interested in improving their skills, the productivity of their labs and the economics of their labs' operations.
When: The first webinar of this series starts on September 11th, 2012.
Where: Live Web Event via GoToWebinar Platform; a link will be provided after registration: Register Now!
About Lab Automation University Online:
The Institute for Laboratory Automation and Lab Manager Magazine have partnered together to create "Lab Automation University ℠" – providing a series of web-based training events to teach lab managers, lab personnel and support teams how to plan for, purchase, and utilize lab automation products and technologies.
About Lab Manager Magazine
Lab Manager Magazine delivers practical business and technology insights to today's lab professionals with more relevant management, financial, and purchasing information than any other industry publication. Our writers, including chemistry and biology Ph.D.s with lab management experience, know the market and know the challenges facing today's research professional. Everyone generates content. Lab Manager Magazine provides intelligence. That's why a growing number of lab professionals turn to Lab Manager Magazine to stay abreast of the latest technology developments, applications, comparisons, and analyses, as well as business and industry trends.
END
###