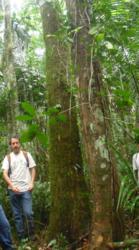 Rosewood is known as "The Wood That Sings"
(PRWEB) August 24, 2012
The designer and builder of perhaps the finest 5-octave concert marimbas in the world, Ron Samuels of Marimba One exhibits the California entrepreneurial spirit by combining a reverence for fine woods with a trained ear from years of playing classical piano.
The marimba is a large percussion instrument similar to a xylophone.
Now, Samuels' obsession is how to derive an ever higher level of sound quality while maximizing the playing experience for the musician. To do this, he takes both the high-teach road and the artisanal path.
The high-tech R&D thrust is an acoustic audio sound booth at the Marimba One workshop where fine microphones linked to computers pick up the various harmonics emanating from the resonators. By manipulating the size and shape of the marimba's resonators, fundamental notes can be emphasized--and less desirable harmonics can be minimized.
This is the process, for example, used to create Marimba One's Basso Bravo resonators, celebrated for their powerful and warm bass notes.
And the artisanal path? This involves Ron and his Marimba One associates walking jungle paths in remote corners of Central America to personally select the rosewood trees to be harvested for their precious rosewood. The wood is lovingly worked into bars that will form the keyboard, under Ron's direction.
Ron says, "We are extremely selective and efficient in our harvest processes, maximizing quality while minimizing our impacts on the forest." The best of the trees will be the basis of the exquisite natural sound that typifies Marimba One's world-class instruments.
The world's pre-eminent percussionist Colin Currie plays the marimba from Carnegie Hall to Antarctica where he appeared this month a performance with the BBC Philharmonic Orchestra. Currie finds the acoustic quality essential: "Marimba One marimbas allow me to pursue purity and balance in my work."
About Marimba One
Marimba One is the world's premier maker of concert marimbas. Located in the college town of Arcata, nestled in the redwoods of California, the company makes custom marimbas, giving great attention to the sound that customers want on their instrument within their budget.