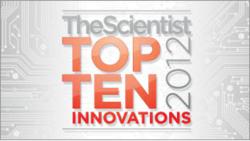 Innovative scientific discoveries have marched hand-in-hand with the development of cutting-edge technology. Reporting on technical innovation is an important part of our commitment to covering all that's best in the life sciences
New York, NY (PRWEB) August 13, 2012
The Scientist announces an open call to the life science community to submit descriptions of cutting-edge tools that have made an impact on research in 2012. An expert panel of judges, invited by The Scientist, will evaluate the technologies and the Top 10 winners will be featured in the December 2012 issue of The Scientist.
Fascinating discoveries continue to be reported in all areas of the life sciences. The very tough global economy is squeezing lab budgets, meaning investment in technology faces tougher scrutiny. What technologies are worth the investment?
For the last four years, the feature reporting the winners of The Top 10 competition has been one of the most widely read articles in The Scientist. "Innovative scientific discoveries have marched hand-in-hand with the development of cutting-edge technology. Reporting on technical innovation is an important part of our commitment to covering all that's best in the life sciences" says editor-in-chief Mary Beth Aberlin.
Click here for eligibility rules and to submit an innovation. Entries accepted from August 1 to September 19, 2012.
About The Scientist:
The Scientist has informed and entertained life science professionals around the world for more than 25 years. The title provides innovative print and online coverage of the latest innovations in life science research and industry developments including trends in research, new technology, news, business and careers. We reach leading researchers in academia and industry who are interested in maintaining a broad view of the life sciences by reading insightful articles that are current, concise, accurate, and entertaining. For more information about The Scientist, visit http://www.the-scientist.com.
Follow Us:
Facebook: http://www.facebook.com/thescientistmagazine
Twitter: http://www.twitter.com/thescientistllc
LinkedIn http://www.linkedin.com/groups/Scientist-Magazine-2142072
END
###