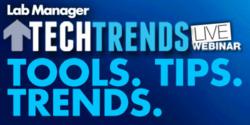 Feel free to share your experiences, voice your concerns and learn from perspectives shared by our experts in real-time.
Midland, ON (PRWEB) September 12, 2012
Most laboratory professionals understand the effects of processing and testing via manual liquid handling and the slow, monotonous and sometimes variable outcomes while utilizing a single or multichannel pipetting methodology. Lab Manager Magazine is offering, from its free TechTrends Webinar Series, an opportunity to better understand how automated liquid handling can improve the lab, test results, and overall outcomes.
Lab professionals need to ask several important questions before making a decision on whether or not to automate processes in their laboratory. Some of these are:

How will automating fit into the workflow of the lab today and in the future?
What level of automation is possible for the laboratory's processes?
What level of automation is right for the laboratory?
How can one make sure that it's done right?
How will introducing an automated system affect lab personnel and productivity?
What are the current liquid handling methods including those for NGS sample prep automation?
In order to get answers to these questions, lab professionals need to understand the demands of their applications and processes, the types of automated instruments that are available, their strengths and weaknesses, the level of workflow automation that is needed and what can be realistically achieved.
Some of the Benefits:
Lab Manager Magazine's webinar on Innovations in Automated Liquid Handling discusses these questions with technical experts in the field in a format that is interactive, informal and informative.
Join this free webinar to hear experts provide guidance on various options for automated liquid handling and how they can be integrated into your workflow for tackling specific samples or applications. Feel free to share your experiences, voice your concerns and learn from perspectives shared by our experts in real-time.
To take advantage of this FREE Webinar and experts' advice, click here: Register Now!
Who should attend?
This webinar is ideal for: lab managers, lab technicians, scientists, chief executive officers (CEOs), chief risk officers (CRO), chief compliance officers (CCO), equipment purchasing agents, laboratory leaders, post doc graduates, procurement managers, and many more.
Agenda:
This session is slated for 90 minutes and will be broken down into a 60-minute presentation with a 30-minute open forum for a live Q & A, all using the GoToWebinar platform. After the session, all attendees will receive links to the presentation materials posted on LabManager.com.
Experts from the following companies will be participating:

BioTek Instruments
Tecan
Agilent Technologies
Labcyte Inc.
When: Thursday September 20, 2012
Where: Live Web Event via GoToWebinar Platform; a link will be provided after free registration at: Register Now!
Time: 12:30pm to 2:00pm EDT
For a free Lab Manager Magazine Subscription: Subscribe
About Lab Manager Magazine
Lab Manager Magazine delivers practical business and technology insights to today's lab professionals with more relevant management, financial, and purchasing information than any other industry publication. Our writers, including chemistry and biology Ph.D.s with lab management experience, know the market and know the challenges facing today's research professional. Everyone generates content. Lab Manager Magazine provides intelligence. That's why a growing number of lab professionals turn to Lab Manager Magazine to stay abreast of the latest technology developments, applications, comparisons, and analyses, as well as business and industry trends.
END
###