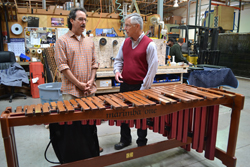 "I feel famous with the original model."
--- Dennis Plies, owner of the first marimba one
Arcata, CA (PRWEB) September 21, 2012
It was 25 years ago exactly that music professor Dennis Plies placed an order for a marimba and moved Ron Samuels to quit his woodworking job and jump into building marimbas full time.
This summer, Plies felt that his 25-year-old marimba could benefit from an overall upgrade. So he and his wife Barbara came to the marimba one shop in Arcata, California, with their beloved instrument.
The marimba is a large keyboard percussion instrument similar to a xylophone. The notes or bars -- made of Honduran rosewood -- sit above large resonator tubes. The warm, deep sound of the marimba is unlike any other.
The craftsmen at marimba one® upgraded his frame, refitted the instrument with all-new hardware, retuned the keyboard and the resonators. They did it according to the same motto that Ron gave to Plies when he took his original order: "perseverance and honest workmanship."
Plies acknowledged Ron's expertise, saying, "You have altered the percussion world worldwide... I feel famous with the original model."
While the bars on Plies' marimba had maintained their pitch, the tuning technique has since evolved. Marimba One's latest innovations include keyboard retuning and upgrading existing marimbas with Basso Bravo resonator voicing.
About Marimba One
Marimba One is the world's premier maker of concert marimbas. Located in the college town of Arcata, nestled in the Redwoods of California, the company makes custom marimbas, giving great attention to the sound that customers want on their instrument within their budget.