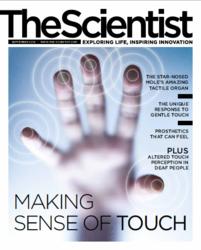 Touch is basic to human life and intricately tied to our emotions.
New York, NY (PRWEB) August 31, 2012
Touch is the first sense perceived in the womb. It is basic to human life and intricately tied to our emotions. But compared to our other senses, comparatively little is known about the sense of touch.
The September issue of The Scientist reports on tactile perception with 6 articles that examine some of the more unusual approaches to researching the subject:

What can be learned about perception and behaviour by mapping the somatosensory cortex of the star-nosed mole—which sports a remarkable, star-like appendage surrounding its nasal openings and innervated by 100,000 sensory neurons;
How we are wired to respond to gentle, pleasurable touch, and why this type of tactile perception is so important;
The state of the art in incorporating a sense of touch in to upper-limb prostheses;
How animals as varied as jumping spiders and elephants use seismic vibrations to communicate
Why the discovery that deaf people often have various degrees of altered touch perception might be useful in determining treatment
Whether you read this issue by holding the magazine in your hand, pressing your mouse, or touching the screen of your tablet—you'll come away with a new appreciation of this most complicated of senses.
Get your free subscription: Click Here
About The Scientist:
The Scientist has informed and entertained life science professionals around the world for more than 25 years. The title provides print and online coverage of the latest innovations in life science research and industry developments including trends in research, new technology, news, business and careers. We reach leading researchers in academia and industry who are interested in maintaining a broad view of the life sciences by reading insightful articles that are current, concise, accurate, and entertaining. For more information about The Scientist, visit http://www.the-scientist.com.
Follow Us:
Facebook: http://www.facebook.com/thescientistmagazine
Twitter: http://www.twitter.com/thescientistllc
LinkedIn http://www.linkedin.com/groups/Scientist-Magazine-2142072
###