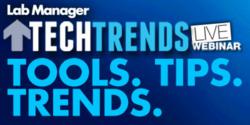 How do you determine which GC/MS or LC/MS system is right for you?
Midland, ON (PRWEB) October 07, 2012
Lab Manager Magazine presents "Recent Improvements in GC/MS and LC/MS Systems" from its free TechTrends live webinar series.
Overview:
Lab Manager Magazine will be hosting an educational webinar focused on innovations and applications of GC/MS and LC/MS systems. The webinar will feature a panel of experts representing some of the leading vendors in the field, who will provide their perspectives on what a user should consider when deciding which system is right for their lab and its applications. Each panelist will give a brief presentation to highlight the recent improvements in GC/MS and LC/MS systems, to help the user decide which one is right for them. This free online event will provide attendees an opportunity to interact with the panelists in real-time and get their advice on key factors they should consider when making their buying decisions.
As an Attendee, You Will Learn:

How do you determine which GC/MS or LC/MS system is right for you?
What are the most important factors to be considered when buying or upgrading?
What are some of the things a user needs to look into for routine maintenance?
How amenable are these instruments to customization for more specialized applications?
What are some of the improvements that companies are working on?
To take advantage of this free webinar and experts' advice, click here: Register Now!
Who should attend?
This webinar is ideal for: lab managers, lab technicians, scientists, chief executive officers (CEOs), chief risk officers (CRO), chief compliance officers (CCO), equipment purchasing agents, laboratory leaders, post doc graduates, procurement managers, and many more.
Agenda:
This session is slated for 90 minutes and will be broken down into a 60-minute presentation with a 30-minute open forum for a live Q & A, all using the GoToWebinar platform. After the session, all attendees will receive links to the presentation materials posted on LabManager.com.
The panel of experts will be representing the following companies:

Agilent Technologies
PerkinElmer
When: Thursday October 11, 2012
Where: Live Web Event via GoToWebinar Platform; a link will be provided after free registration at: Register Now!
Time: 12:30pm to 2:00pm EDT
About Lab Manager Magazine
Lab Manager Magazine delivers practical business and technology insights to today's lab professionals with more relevant management, financial, and purchasing information than any other industry publication. Our writers, including chemistry and biology Ph.D.s with lab management experience, know the market and know the challenges facing today's research professional. Everyone generates content. Lab Manager Magazine provides intelligence. That's why a growing number of lab professionals turn to Lab Manager Magazine to stay abreast of the latest technology developments, applications, comparisons, and analyses, as well as business and industry trends.