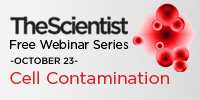 Midland, ON (PRWEB) October 17, 2012
Webinar Overview:
Cultured cells are used extensively in research, manufacturing, and for therapeutic purposes. Unfortunately, a large number of cell lines are mislabeled, contaminated, and misidentified, leading to results that are non-replicable, data that is erroneous, and conclusions that are faulty. These problems have often gone unnoticed and unchecked, costing labs a significant amount of time, money, and labor. The authentication of cell lines is a crucial quality-control step, and this webinar's experts will elaborate on some of the recent efforts underway to eradicate these problems.
What You Will Learn & The Experts:
This free webinar, "Pitfalls Associated with Cell Contamination, Misidentification and Authentication," brings together three experts who will discuss the following topics related to their expertise.
Human Cell Line Cross-Contamination: 60 Years of Bad Practice, Ignorance, and Fraud
Presented by: Dr. John Masters, Professor of Experimental Pathology, University College London; Director, Prostate Cancer Research Centre
Topics to be covered:

Overview and history of cell authentication
Current challenges and solutions
Examples and case studies
Analytical Approaches to Authentication and Special Issues for Cells Intended for Clinical Use
Presented by: Dr. Glyn Stacey, Head, Division of Cell Biology and Imaging; Director, UK Stem Cell Bank, National Institute for Biological Standards and Control Cancer Research Centre
Topics to be covered:

Analytical Techniques used for cell authentication
Approaches for non-human cell lines
Issues for identification of cell lines for clinical applications
Turning the Tide: Resources to Reduce Cross-Contamination and Avoid Misidentified Cell Lines
Presented by: Dr. Amanda Capes-Davis, Founding Manager and Honorary Scientist, CellBank Australia; Chair, International Cell Line Authentication Committee (ICLAC)
Topics to be covered:

The KB cell line story: why a new initiative is needed
The database of cross-contaminated or misidentified cell lines
The International Cell Line Authentication Committee (ICLAC)
To take advantage of this FREE webinar and experts' advice, click here: Register Now!
Who should attend?
This webinar is designed for lab managers, directors, scientists, technicians, analysts, post-doctorates and engineers interested in expanding their current knowledge and/or wishing to develop an understanding about Cell Contamination, Misidentification and Authentication
Agenda:
This session is slated for 90 minutes and will be divided into a 60-minute presentation with a 30-minute open forum for a live Q&A, all using the GoToWebinar platform. After the session, all attendees will receive links to the presentation materials posted on the-scientist.com.
When: Tuesday, October 23, 2012
Where: Live Web Event via GoToWebinar Platform; a link will be provided after free registration at:
Register Now!
Time: 12:30 p.m. to 2:00 p.m. EDT
Sponsored by: ATCC
About The Scientist:
The Scientist has informed and entertained life science professionals around the world for more than 25 years. The title provides innovative print and online coverage of the latest innovations in life science research and industry developments including trends in research, new technology, news, business and careers. We reach leading researchers in academia and industry who are interested in maintaining a broad view of the life sciences by reading insightful articles that are current, concise, accurate, and entertaining. For more information about The Scientist, visit http://www.the-scientist.com.
END
###