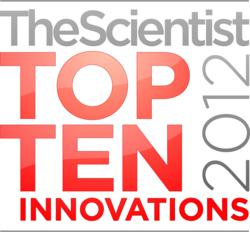 our annual Top 10 Innovations competition we refocus on the core meaning of 'innovation'—to whit: a new idea, method, or device, according to the Merriam-Webster dictionary
New York, NY (PRWEB) December 03, 2012
The Scientist announced today the winners of its 5th annual Top 10 Innovations competition. Continuing its mission of "Exploring Life, Inspiring Innovation," The Scientist invited members of the life science community to submit descriptions of technological advances that made a direct impact on research in 2012. We assigned a panel of expert judges the difficult task of evaluating and ranking these technologies, techniques, or tools.
Biochemist Vicki Chandler of the Gordon and Betty Moore Foundation's Science Program, Gabriel Popescu of the University of Illinois, Pacific Northwest National Laboratory's Steven Wiley, and Northwestern University's Andrew Mazar evaluated more than 45 qualified entries in this year's Top 10 Innovations competition and narrowed the impressive field to the10 best.
Taking top prizes this year are a company that offers syn bio à la carte at fast-food prices; two different DNA sequencing machines; stem cells made to order; two high-tech cell culture and imaging systems; photo-morpholinos; a new luminescent reporter protein; an extremely versatile digital camera; and a killer organize-your-lab app.
"With The Scientist's fifth installment of our annual Top 10 Innovations competition we refocus on the core meaning of 'innovation'—to whit: a new idea, method, or device, according to the Merriam-Webster dictionary. And this year's crop of winning products delivers on this simple definition."
—Bob Grant, Senior Editor, The Scientist
This year's winners:
1) Biofab (Gen9)
2) Ion Proton System (Life Technologies)
3) MYCell Services (Cellular Dynamics International)
4) Labguru (BioData)
5) MiSeq (Illumina)
6) ONIX Microfluidic Platform (CellASIC)
7) NanoLuc Luciferase Technology (Promega)
8) XSCELL Digital Scientific Camera (Photonis)
9) Photo-Morpholinos (Gene Tools)
10) HUBIOGEM + The BIOwiggler (Vivo Biosciences + Global Cell Solutions)
Read the complete feature in The Scientist's December 2012 issue. The article will be available online at http://www.the-scientist.com/?articles.view/articleNo/33341/title/Top-10-Innovations-2012/ starting December 1, 2012. Visit http://www.the-scientist.com for special online-only extras related to this year's competition, including expanded judge's comments and a slide show showing some of the products that garnered honorable mentions.
ABOUT THE SCIENTIST
The Scientist has informed and entertained life science professionals around the world for more than 25 years. We provide print and online coverage of the latest developments in the life sciences including trends in research, new technology, news, business, and careers. We reach the leaders in academia and industry that are interested in maintaining a broad view of the life sciences by reading insightful articles that are current, concise, and entertaining.
For more information regarding the 2012 Top 10 Innovations, please contact:

innovate2012(at)the-scientist(dot)com
adsales(at)the-scientist(dot)com for advertising enquiries
###