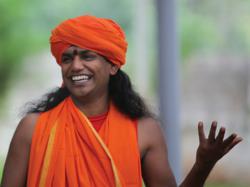 My purpose is to share Enlightenment with the society
Los Angeles, CA (PRWEB) March 20, 2012
"I don't believe in past lives. I know past lives exist! I am not talking about theory, concepts of past lives just because Hinduism promotes it. No. I am talking the truth of past lives because I have experienced it! I have experienced my past and past lives!" – revealed Paramahamsa Nithyananda during the world wide Live Webinar on March 17. Thousands of seekers, followers, disciples, devotees from around the world gathered around, in deep respect and gratitude for their Master to watch the live streaming via 2 way video conferencing. Thousands more woke up in different time zones from across the world to watch the live streaming from their homes via eN-TV over the internet.
During the much awaited Past Lives webinar, this rare enlightened Master inspired everyone to work, drop and proceed. Work on finding out our past, drop the mental patterns which are causing pain, suffering, disease, poverty, etc, and then proceed to live a life of maximum potential.
Following is an excerpt of the 3 layer formula which Paramahamsa Nithyananda revealed on March 17. These truths left thousands of people across the globe empowered with a new vigor to handle their future with freshness by dropping the stale past.
Swamiji summed up the Highest Truths and mysteries of the entire human being's life with mind, body and soul from the time of the Big Bang until the present moment in a very clear concise formula. Something that has taken thousands of years of research in the inner-world science, thousands of volumes of Vedic scriptures to educate, several thousands of Puranas to describe, thousands of modern scientists and researchers to analyze, debate, experiment etc, were revealed to humanity in a nutshell.
THE 3 LAYER FORMULA:
All of us carry 3 layers of past lives which directly influence all the decisions that we make in the present life.
THE 1ST LAYER:
The 1st layer is from the present moment until the date of birth in this present body. This layer carries the engrams. Engrams are memories of every experience which gets engraved in our inner space as bio memory and muscle memory.
Thousands of decisions we make each day - our waking up mood, dressing, eating, thinking, relationships, interacting, behaving and responding to everything are from the 1st layer past.
We carry many patterns which we live in the letter and not in spirit. Even if we know it is not good for our life's purpose, we may have mental patterns. All mental patterns are self made patterns, which we initially created for ourselves for a happy living, but eventually they start binding us. Initially they were not bondage for us. The 1st layer past is the root cause of our psychological problems and disorders.
When we started forgetting the spirit of why we created the pattern it became bondage leading to many self created boundaries, limitations, diseases and disturbances. No engram pattern comes with us by itself. We choose. For example, in the young age whenever we are cornered we may pick up the pattern of screaming and shouting back. At that moment it was giving us freedom and it would frighten people enough to give us more space to do what we want to do. Slowly we make this a pattern. After few years we forget the reason why we created the pattern. After 40 years, if we pick up the same pattern of screaming and shouting the same result is not happening, and even if the same result is not happening, we are still following it. These patterns are called dead mental patterns.
Dead mental patterns bring suffering to us. The moment a cell, it has to leave our body, otherwise it becomes poison. The moment a pattern is dead, it has to leave our system. Dead Mental Patterns are Dead Laws which Kill, be it in community as terrorism, in a family as domestic violence or within our inner space as mental patterns.
WORK, DROP & PROCEED
Mind is the totality of the 1st layer past. The moment we assumed this body till this moment whatever has happened is our mind. So if we want to transform our mind, explore and work on the 1st layer to know the spirit of the law. Then, we get the intelligence to manipulate, alter, delete or bend the law as we want, for the required results. When we know the sacred secrets of our life and cosmos, we live like a lion, with so much courage, joy, excitement and strength!
Exploring the 1st layer past liberates us from many of the psychological problems which lead to diseases and suffering. Muscle memories such as anger, irritation, agitation, laziness and restlessness are more psychological. If we explore the 1st layer past we will walk out of many mental disorders.
THE 2ND LAYER:
The 2nd layer is from the present moment to the date of birth of the very first body that we assumed spanning over several bodies we assumed such as fish, tortoise, bird, etc. The 2nd layer past is the root cause of many of our physiological disorders. Exploring this layer of past can heal us and liberate us from all our physiological problems. Body is the totality of the 2nd layer past. Some of the patterns which have become bio memories do not start in the present body. Habits like eating, sleeping-insomnia, drinking, sex, pain, experience of fear are more bio-memory based.
Many people carry scars in their body from their past lives incidents. If they have died by snake bite, they carry the bite mark. If they died by hanging, they carry that pain and disease in vocal cords. If they have been raped in past life, they carry that rejection, wound in the present body. People can just walk out of many, many diseases just by exploring their second layer past.
THE 3RD LAYER:
The third layer of past spans from the present moment to the date of birth of the Big Bang. Normal human beings cannot access these cosmic archives and there is no need to. When there is suffering for the whole humanity, it is from the third layer past which is the result of collective negativity.
There are so many, so many powerful techniques to explore the first layer past and second layer past. If you want to explore the second and third layer past, attend the Inner Awakening program at least once.
Lastly Paramahamsa Nithyananda in a Q&A session, was asked if the mystical process of initiation helps in eliminating the engrams accumulated in the past lives.
Paramahamsa Nithyananda explained that a single initiation by an enlightened Master is equivalent to having a small match stick burn even several go-downs of cotton which may have been collected for 300 years. The very quality of initiation means destruction of all engrams from past lives.
Initiation is similar to taking a torch instantly to light up many dark corners of underground cellars in palaces. The darkness in the underground cellars may be 100s of years old, but all it needs is a single torch to light it instantly and eliminate the darkness.
When a Master initiates the Inner Awakening in us, when our consciousness is awakening, then all engrams from past lives, be it 300 or 3000 or 3 million or 3 billion lives, we are free from engrams which we have accumulated from our past lives.
InnerAwakening is an intense 21 day spiritual retreat conducted in the serene and divine ambience of the ashram in India of rare living avatar Paramahamsa Nithyananda. Under His personal guidance, the program is centered on awakening the ultimate inner potential energy within each of us, the Kundalini energy, and making available the innumerable practical benefits in various dimensions of our life like health, wealth, relationships, education, career, etc. This unique 21 Day spiritual retreat includes Kundalini awakening, levitation, meditation, yoga, kriyas, initiations, etc.