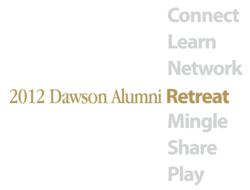 St. Petersburg, FL (PRWEB) February 15, 2012
The Dawson Academy Alumni Association announces their first annual member retreat this March in St. Petersburg, Florida.
The Academy is excited to host a weekend of fellowship, continued learning, and entertainment.
Joan Forrest, President and CEO of The Dawson Academy, said, "Our students can meet like-minded professionals with whom to share their success and find new solutions to their challenges. Being part of a community fosters growth and development and establishes relationships you can call on all year long for support and synergy."
During the retreat, The Dawson Academy, provider of dental courses, and their faculty will host a cocktail party in their new facility. The weekend will also include 2-hours of continuing education over breakfast at the St. Petersburg Fine Arts Museum, and dinner, cocktails, and an inspirational speaker, Frank Miles, performing at the St. Petersburg Yacht Club.
Dr. Doyle Freano, The Dawson Academy faculty member and alumni association president, said, "Frank Miles will uniquely entertain and inspire us to overcome fear as an obstacle in our lives."
The continued education will consist of The Dawson Academy faculty members making short presentations on case presentation and case acceptance. After the presentations, Dr. Peter Dawson, founder & partner, will moderate a panel discussion open to questions and answers from attendees.
Freano expressed, "I'm really looking forward to our unique CE program presented by 6 different faculty moderated by Dr. Dawson in just two hours. I know it will be practical and focused on improving our practices immediately."
Additionally, the retreat will allow attendees to enjoy various activities around downtown St. Petersburg.
St. Petersburg offers a great amount in entertainment for all interests. The selection of museums is vast with The Salvador Dali Museum, the Fine Arts Museum's Art in Bloom exhibit, The St. Petersburg Museum of History and The Florida Holocaust Museum. Visitors can also enjoy sporting hobbies such as golf or tennis at the Renaissance Vinoy. St. Petersburg also homes a large variety of food unique to the city.
"Weekends like this are so special because I get to spend time with all my friends I have made over the years at The Academy. I'm sure I will come home with some new ones too. And getting to see Dr. Dawson and listening to his words of wisdom, it just doesn't get any better than that," shares Freano.
About The Dawson Academy
The Dawson Academy is an international provider of science-based dental continuing education, teaching dentists to comprehensively diagnose and treat dental problems with excellence and integrity. The Academy has taught dental courses to the dental industry for over 30 years and is dedicated to teaching the principles and skills necessary for the successful practice of complete, quality, and predictable dentistry.
###