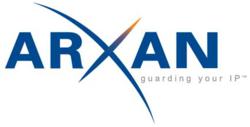 Bethesda, Md. (PRWEB) May 14, 2012
Arxan® Technologies, the industry leader of application protection solutions that secure the App Economy, today announced that it will be demonstrating its proven mobile application protection technology at the 2012 FS-ISAC & BITS Annual Summit, booth #23, May 14-16 at Turnberry Isle in Aventura, Fla.
Vince Arneja, vice president of product management with Arxan, will also be a featured speaker on the May 16 mobile security panel "Is Mobile Security an Oxymoron?" to be moderated by Jim Routh, Managing Director, Global Head of Application, Internet and Mobile Security of JP Morgan Chase. Arneja will provide insight on mobile application security best practices for banks and financial institutions. Other panelists include executives from 3LM, BoxTone, Mocana and Unisys.
As the financial industry continues to be transformed via the emergence of new mobile services, such as mobile P2P transactions, remote deposit, balance transfers and payment, the underlying software applications for Android, iOS, Windows Phone and other operating systems that reside in or communicate with mobile devices, are subject to attack. Security is a critical component for both consumer and enterprise applications that are required not only at the network and device level, but also at the application layer to thwart endpoint attacks, such as tampering, reverse-engineering, theft and fraud.
In a recent study by Infosys, Ashok Vermi, member of the Board and head of the Americas at Infosys, noted: "We continue to see the business case for technology investments here, yet for many financial institutions, the newly mobile world is still a daunting place. The Infosys study underscores that to get the most ROI, banks must provide the same comfort and trust level across all channels — online, in the branch, or on a mobile phone."
The mobile security panel members will focus on providing the FS-ISAC executive attendees with a deeper understanding on what mobile security issues should be prioritized to manage risk from the growth in mobile applications being developed for the consumer market and internal enterprise deployment, which is accelerated by the bring-your-own-device (BYOD) movement.
Arxan also will be illustrating how banking and financial services apps can be easily hacked and lead to malware invasion, compromised data, unauthorized access and theft. Through its "Bank of Arxan" security demonstration for protecting end-to-end Android and iOS financial applications with its EnsureIT™ suite, attendees will learn how to actively defend their apps, digital assets and business models.
Arxan's multi-layered and multi-platform protection consists of a variety of security technologies, including static and dynamic defenses such as: obfuscation, anti-debug, repair, self-healing and anti-tamper to ensure durability, resiliency and performance in the field. The company's application-level security complements other management/security tools (MDM, MAM/secure containers, code scanning, and SDLC), creating an additional layer of defense that is transparent to the end-user.
To this end, regulatory bodies are calling for new and enhanced security protocols. According to a supplement released on June 28, 2011 by the Federal Financial Institutions Examination Council (FFIEC) to update the 2005 "Authentication in an Internet Banking Environment" guidance: "Layered security can substantially strengthen the overall security of Internet-based services and be effective in protecting sensitive customer information, preventing identity theft, and reducing account takeovers and the resulting financial losses." The supplement defines layered security as "the use of different controls at different points in a transaction process so that a weakness in one control is generally compensated for by the strength of a different control."
To ensure successful mobile adoption in the financial sector, banks and financial institutions worldwide are turning to Arxan for its easy-to-deploy, durable and tunable mobile application protection solutions that minimize financial risk and loss of control of financial applications that are deployed across diverse platforms and mobile devices.
The 2012 FS-ISAC & BITS Annual Summit provides a critically important ingredient in defending financial infrastructure -- coming together as an industry to share ideas and strategies for understanding the threats and how to defend against them.
To learn more about Arxan's application security for the financial service ecosystem please call 301.968.4290 or email info(at)arxan(dot)com.
ABOUT ARXAN TECHNOLOGIES:
Arxan Technologies Inc. is the industry leader of application protection solutions that secure the App Economy. Arxan's application protection secures mobile, desktop, server and embedded applications against tampering and reverse engineering attacks as an integral part of end-to-end application security. Our security defends against unauthorized use, insertion of exploits, piracy, and theft of intellectual property for global leaders in markets such as Fortune 500 enterprises, financial services, ISV, gaming and digital media to proactively defend the integrity of their code and business models. Arxan's proven, scalable and durable application protection solutions defend, detect, alert and react to application attacks through a threat-based, customizable approach. Arxan Technologies is headquartered in the United States with global offices in EMEA and APAC. For more information, please visit http://www.arxan.com.