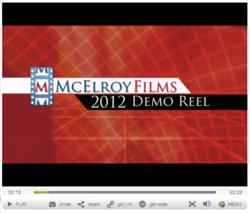 I can't be happier with our expansion and the quality work we've been providing our clients, we've been able to have this success by sticking to our goal of affordable, quality high definition video production all while increasing our services
Burlington, MA (PRWEB) April 13, 2012
When a company out-grows it's office, increases staff, wins 3 more Davey Awards, and expands services in less than a year, it's safe to call it a success, but such growth has been the norm for owner and executive producer Ben McElroy and his Boston-based video production firm.
"I can't be happier with our expansion and the quality work we've been providing our clients, we've been able to have this success by sticking to our goal of affordable, quality high definition video production all while increasing our services," Ben extolled.
McElroy Films proved their quality again by winning three Davey Awards for non-profit videos produced for Fenway Health, the South Shore Habitat for Humanity, and the New England Pediatric Center. The latest awards came in addition to the Telly Award the firm was awarded in early 2011 for yet another Fenway Health video. The winning ways even spilled into the wedding division as McElroy Weddings won the highly coveted Bride's Choice Award from the Wedding Wire and the Best of 2012 from The Knot. Both awards are based solely on positive client reviews.
"Awards only reinforce what our clients already know," Ben explained. "They are getting the best cinematography for a fair and flexible price."
2011 saw dozens of exciting new videos produced for new and established clients.
Acclaimed singer, Brian Evans, originally of Haverhill, MA, enlisted McElroy Films to promote his hit single At Fenway in a 30-second spot featuring Hall-of-Famer Jim Rice. The spot not only fueled the song's induction into the Baseball Hall of Fame, but also aired during the Super Bowl in several regions across the United States.
At about the same time, McElroy Films delved into the New Hampshire Republican primary, becoming former Speaker Newt Gingrich's personal videographers at a time when the race was still hotly contested. After the primary, McElroy Films produced web spots and commercials for the South Carolina primary.
"Image is everything in politics," Ben said, "and I'm happy that a nationally known figure such as Mr. Gingrich trusted McElroy Films with his campaign at such an early stage in the race."
McElroy Films also produced a hip-hop music video for local artist, G-Star, which accrued hundreds of thousands of views on YouTube in mere weeks.
"Many artists try to find representation through their music alone," Ben explained, "but the music industry is just as visual now as audible. A video can be a great way to get your talent noticed."
Additional videos for non-profit Fenway Health were featured at two of the largest fundraising events for the LGBT community in the country in both 2011 and early 2012: The Men's Event and the Women's Diner Party. Another non-profit giant, the Crohn's and Colitis Foundation of America (CCFA), had a video produced for their premiere fundraising event as well as videos detailing the CCFA's major fundraising programs such as the Take Steps and Team Challenge campaigns. All the videos went a long way in detailing the missions of Fenway Health and the CCFA for potential donors.
"Video can help non-profits educate potential donors in ways that key-note speakers and door-to-door solicitation cannot," Ben explained. "More and more, non-profits are turning to video to really show who the money is helping through testimonials and personal, first-hand accounts."
The past year also included training videos for Triple-S as well as educational videos for Fenn School, Holy Name High School, and the Pakachoag Music School.
"From industrial processes for Triple-S to a anti-bullying video for Holy Name, video can be a great tool to help people of every age learn quickly and effectively."
With all the success and a host of new projects on the horizon, McElroy Films seems ripe for even greater success in 2012 and beyond.
"As long as we continue to do the right thing and are transparent with our costs and work to make every project the best it can be," Ben mused. "I see brighter future ahead not only for us, but also our clients."
About McElroy Films
McElroy Films LLC is an award-winning producer of high definition video for corporate, educational, non-profit, wedding, music video, and independent film use. Serving the Massachusetts and New England area, McElroy Films' mission is to keep high definition video affordable without sacrificing quality. McElroy Films has assisted organizations throughout the Boston area increase their revenues and awareness by drawing in new clients and educating existing ones with concise, effective videos for the web and broadcast.
About Ben McElroy
Ben started his career in high school as a documentarian, filming abroad in Turkey, Israel, Greece, and India for Open Air Campaigners, His Land Israel Tours, and The People's Baptist College and Seminary. His college experience included the New York Film Academy, Full Sail University in Orlando, FL, and UMass Lowell. Ben won the National Press Photographers Award for outstanding photography during his time with the Lowell Sun and also spent time with the Associated Press, Manchester Union Leader, and Time Warner. Now deep into his career as a producer and videographer, Ben has won numerous Davey and Telly awards for his editing and videography for Fenway Health, South Shore Habitat for Humanity, New England Pediatric Center, and more.