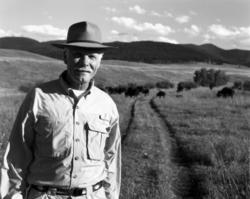 Every year BRIT looks for that special individual whose commitment to conservation has produced extraordinary results," says Dr. S.H. Sohmer, BRIT's president and director. "This year, Ted Turner is that person.
FORT WORTH, Texas (PRWEB) October 18, 2011
The Botanical Research Institute of Texas (BRIT) announced today that CNN founder, entrepreneur, and environmentalist Ted Turner is the recipient of its 2012 International Award of Excellence in Conservation for his accomplishments in grassland restoration and in biodiversity conservation. The award dinner will be held on April 5, 2012, at The Worthington Renaissance Fort Worth Hotel in Fort Worth, Texas.
"In considering our award's nominees, every year BRIT looks for that special individual whose commitment to conservation has produced extraordinary results," says Dr. S.H. Sohmer, BRIT's president and director. "This year, Ted Turner is that person. His passion for nature and dedication to biodiversity and ecological sustainability stand out as sterling examples of what an individual can do. I wholeheartedly congratulate Ted on his amazing efforts."
Turner's environmental projects include water resource management, reforestation, and the reintroduction of native species to the land. As one of the largest private landowners in the United States, he holds more than two million acres in 12 states. Much of his land is registered under a conservation easement, which is a legally enforceable land preservation agreement that restricts real estate development and is binding for all future owners of the property. One of Turner's specific interests is the restoration of the American prairie ecosystem. More generally, one of his main objectives in managing such a large amount of property is to "leave it in a better state than when he found it."
That said, Turner takes an eco-preneurial approach to ranch management in that his ranches have three related missions: to protect the environment, to promote the conservation of native species, and to be profitable. Included in his western ranchland prairie ecosystems are a mixture of native and endangered species including 55,000 bison and 250,000 prairie dogs, two animals Turner considers to be quintessential icons of the American Great Plains. Other endangered species Turner has brought back on his lands include: desert bighorn sheep, red-cockaded woodpeckers and black-footed ferrets.
"I have long believed that we do not own the land; we are simply custodians of it," said Turner. "I commend BRIT for the important work they do to advance conservation education and practices and am honored to be selected as recipient of this prestigious award."
In addition to his land holdings, Turner manages five foundations that both actively address some of the world's most important environmental issues and support projects that help to guarantee a stronger and safer planet for future generations. The two notable conservation and biodiversity-related foundations are the Turner Foundation, Inc. (TFI), founded in 1990, and the Turner Endangered Species Fund (TESF), founded in June 1997. TFI supports efforts for improving air and water quality, developing a sustainable energy future to protect our climate, safeguarding environmental health, maintaining wildlife habitat protection, and developing practices and policies to curb population growth rates; TESF was established to conserve biodiversity by emphasizing restoration efforts of endangered or imperiled species on the Turner properties.
"Attitude and accomplishments go hand in hand," says Dr. Sohmer. "What really moved the BRIT selection committee was reading a comment Ted made in a recent interview, (and I paraphrase): where it's possible to have a positive impact, let's make it the biggest impact we can."
Created in 1995, the International Award of Excellence in Conservation is presented to honor individuals and organizations that exemplify the ideals expressed in BRIT's mission. Recent honorees include: Brazilian rancher and conservationist John Cain Carter; biologist Edward O. Wilson, Ph.D.; botanist and author Peter H. Raven, Ph.D.; renowned chimpanzee researcher Jane Goodall; wildflower advocate Mrs. Lyndon Baines (Lady Bird) Johnson; past director of Royal Botanic Gardens, Kew, England, Sir Ghillean Tolmie Prance, Ph.D.; former president of the Republic of Costa Rica the Honorable José María Figueres; and Mayor of Panama City Juan Carlos Navarro.
Ted Turner is the eighteenth recipient of the award.
About the Botanical Research Institute of Texas
Founded in 1987, the Botanical Research Institute of Texas (BRIT®) based in Fort Worth, Texas is an international, scientific research and learning center focused on conservation, knowledge sharing and studying the diversity of plant life. BRIT conducts extensive global research, including major projects in Texas, Europe, Peru, and the Pacific Islands. In the last 10 years, BRIT scientists have located and described scores of species previously unknown to science. BRIT's herbarium is among the largest in the United States and is the largest U.S. herbarium not part of a university, botanical garden, or broader natural history museum. In the spring of 2011, BRIT moved into its new, US Green Building Council LEED (Leadership in Energy and Environmental Design) Platinum-certified headquarters located in the Fort Worth Cultural District. For more information, visit http://www.brit.org.