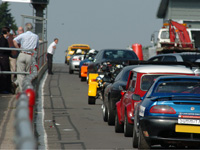 Car and Bike track day hire with tech support and full onsite mechanical backup.
(PRWEB UK) 1 July 2012
Trackdays.co.uk, the track day and driving experience day booking agent have announced a significant increase in their Bike and track day Car hire in 2012 compared to 2011 with sales peaking over May and June.
Marketing Manger Mark Rusted, said "as the track day awareness increases more and more people are looking to get involved in bike and car track days but may not have there own vehicle. We believe this is the reason for the boost as well as the increased cost of running a car or bike. In early 2012 we decided to source suppliers who had a varied selection of cars and bikes for hire and its paid off."
Sales Manager Imran Malek added that the most popular car for hire is the Ariel Atom which can be hired from £630, and the most popular bike for hire is the Yamaha R1 which can be hired from £199. He believes that with these competitive prices they can offer there customers exceptional trackday experiences as each hire of one of the vehicles comes with tech support and full onsite mechanical backup to help with any issues that may occur on the day.
You can find all of the available hire options for Bikes and Cars for hire at trackdays.co.uk.