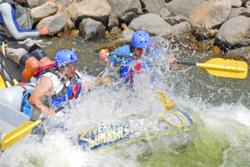 It has been a unique rafting season with the lower than average flows, but the important thing is we are still offering quality river trips through some of Colorado's most beautiful canyons
Buena Vista, CO (PRWEB) July 13, 2012
River Runners, a whitewater rafting company with two locations on the Arkansas River, reports peak flows this July and offers Colorado rafting discounts now through September 3 (Labor Day), 2012.
The Arkansas River peaked at more than 1,000 cfs on July 10, 2012 due to heavy rains in the mountains, according to Travis Hochard, operations manager at River Runners, who said reported flows have leveled to 465 cfs at the Nathrop Gauge as of July 13.
"Peak flows normally occur in June from the melting snow pack, but lack of snow in the high country resulted in a historically low run off," Hochard said. "Inconsistent flows in June made it challenging for logistics, but with the flow management program kicking in for July and a pattern of late afternoon showers we expect the best rafting of the season through the end of the month."
Eileen Peterson, general manager of River Runners, said that business levels are down about 20 percent from last season, which has prompted the company to offer discounts on whitewater rafting trips. According to Peterson these rafting deals include buy-one-get-one-half-off intermediate full days through Browns Canyon and Bighorn Sheep Canyon; and $10 off advanced full days rafting The Numbers and The Royal Gorge.
"The Colorado wildfires had a negative impact on tourism for the first part of July," Peterson explained. "Now that fires are mostly contained and we have received significant moisture, our hope is that people will return to our beautiful state for their vacations."
The company is optimistic that the discounts will encourage more people to go rafting and Hochard is confident that people will be happy with their river experience.
"It has been a unique rafting season with the lower than average flows, but the important thing is we are still offering quality river trips through some of Colorado's most beautiful canyons," Hochard said. "We have heard a lot of positive feedback from our guests."
COMPANY INFORMATION
River Runners has offered fully guided rafting trips on the Arkansas River since 1972. Celebrate 40 years of whitewater rafting in Colorado from two River Runners locations – the Royal Gorge Rafting Center near Canon City, Colorado and the Riverside Rafting Resort near Buena Vista, Colorado.