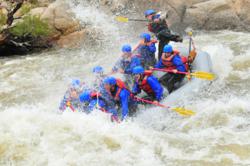 One thing they all have in common is a love for the outdoors, a thirst for adventure and a willingness to be broke and homeless in the mountains of Colorado
(PRWEB) March 23, 2012
River Runners, a Colorado whitewater rafting company with locations in Buena Vista and Canon City, has invited 15 aspiring river guides to its annual whitewater raft guide training school on the Arkansas River to be held May 21 – June 3, 2012.
The Colorado rafting company is no longer accepting applications for the two-week raft guide course, which has become increasingly popular through the years according to Travis Hochard, operations manager at River Runners.
"We started getting calls and e-mails in October and ended up with more than 70 raft guide applicants for just 15 available positions," Hochard said. "It's great to have so much interest, but it is difficult narrowing it down."
Hochard said that some trainees will work for River Runners, and some will work for Adrift Adventures, a multi-day rafting company under the same ownership that offers one-day, four-day and five-day river trips on the Green River and Yampa River in Dinosaur National Monument.
"Our goal is for everyone who participates to become a qualified river guide in Colorado and to work for one of our rafting companies, but unfortunately that is not always the case and sometimes one or two trainees won't cut it."
According to Hochard the guide school is $500 and some monetary investments are required for personal rafting gear like a pfd, helmet, river knife, straps, dry bags and splash wear.
"People become a raft guide for the experience and to acquire a life-long skill, not for the money," Hochard said. "If you're in it for the money you better find another profession."
Hochard indicated that applicants come from around the world with some hailing as far as Argentina, United Kingdom and Germany, but that most still come from the United States.
"We get applications from all over the planet…one thing they all have in common is a love for the outdoors, a thirst for adventure and a willingness to be broke and homeless in the mountains of Colorado for four months," Hochard said half-jokingly.
The minimum requirements to be a river guide in Colorado are outlined by Colorado Wildlife and Parks and include 50 hours of on-river training that must cover the following: rigging and maneuvering a vessel; river currents, eddies, waves and hazards; scouting and running rapids; river rescue and emergency procedures; minimizing resource impacts; and proper fit, wearing and use of personal flotation devices (PFDs). All guides must also have CPR and First Aid certifications.
"These are just minimum requirements," Hochard said. "River Runners requires at least 100 hours of training – double that required by the state – and we put them through just about every situation imaginable. If we're going to trust them to safely guide our guests down the river, we want to be absolutely certain they're ready."
River Runners will celebrate 40 years of whitewater rafting on the Arkansas River in 2012 and is one of the largest river outfitters in Colorado with nearly 25,000 annual guests. Choose from two convenient locations– Buena Vista, Colo. and Canon City, Colo. – that offer half-day, full-day and overnight rafting trips on beginner, intermediate and advanced whitewater. Book your Colorado rafting adventure with River Runners at http://www.whitewater.net or call 1-800-723-8987.